Four for Tomorrow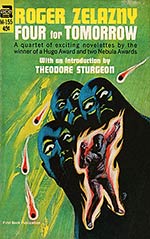 Four for Tomorrow
ed.rybicki
4/7/2015


As with all early Zelazny - simply sublime. Works of outrageous imagination, beautifully written, superbly characterised. The Doors of His Face has to be one of the better stories I have ever read: it grabbed me from the first few paragraphs; and when the graffle took and the beast was winched up from the depths... I was there.
I was there again with A Rose for Ecclesiastes, but in such a different way: I think Zelazny had to be the first writer I had met when I was mid-teens, as well as writing startlingly original SF - and I have not changed my mind.
It's just a pity he didn't carry on like that.
http://edrybicki.wordpress.com