Red Seas Under Red Skies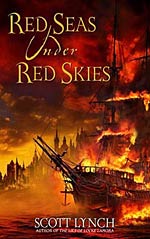 Of Conmen and Pirates...
Allie
7/10/2012


Red Seas Under Red Skies is a sequel to The Lies of Locke Lamora, and the first novel is definitely required reading to appreciate the second. Red Seas continues the humor, excitement and adventure that made Lies such fun, and it takes the reader to new and interesting locations and cultures. Some of the plot points seemed a little too farfetched, but I was more than willing to suspend my disbelief. I do wish that alternating past/present chapters could have been used here as effectively as they were in Lies, perhaps to expand upon Locke's previous love life in conjunction with their present time line's romance subplot. The pacing seemed a little inconsistent, as well, with a climax that seemed too rushed, given the more sedate pace of most of the rest of the novel. Overall, it's an entertaining continuation of the Gentleman Bastard's story, and I can't wait to see what happens next when Republic of Thieves is published!
Click Below for my Full Review!
http://tethyanbooks.blogspot.ch/2012/06/red-seas-under-red-skies-by-scott-lynch.html