WWEnd Award Worthy Books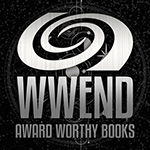 The WWEnd Award Worthy Books list is a list of books published in the year that our members have read and tagged as "award worthy" for your consideration for next year's awards season. The list is divided into 3 genre categories for Science Fiction, Fantasy, and Horror. Our members determine what books go on the list by adding up to 5 books to their own personal award worthy lists on their My World page. Those books also end up on the main list here.
This list will grow and change as the year goes on and more books are published, read and tagged by our members. Each member's list will fluctuate too as they remove previous books to make room for books they like better later in the year and those changes will affect the main list.
The list is sorted by the total number of votes the book has received with a secondary alpha by title sort. A full description and instructions for participation can be found by clicking the "Details" tab below.