2012 WWEnd Grand Master Reading Challenge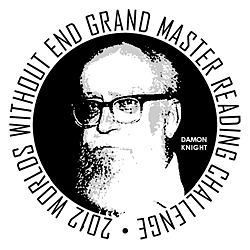 The goal of the WWEnd Grand Master Reading Challenge is to read 12 books — 1 each by 12 Grand Master authors — in 12 months and write 6 reviews. Post your reviews here on WWEnd, or post an extract here then link back to your blog for the full review; you'll get credit either way. We'll cherry pick the best reviews to feature in the WWEnd blog.
There will be monthly prizes for the best reviews, based on member votes, and other incentives throughout the year like T-Shirts, buttons, books and bookmarks. You must be a WWEnd member to participate and have a chance to win prizes. Join now for free!
To join the challenge simply select 12 authors from the Damon Knight Memorial Grand Master Award page. Once you finish reading a Grand Master book, tag it on the novel page and it will show in the list below in place of the author picture.