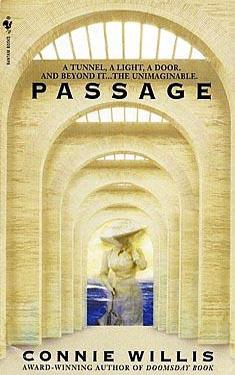 Synopsis
At Mercy General Hospital, Dr. Joanna Lander will soon be paged -- not to save a life, but to interview a patient just back from the dead. A psychologist specializing in near-death experiences, Joanna has spent two years recording the experiences of those who have been declared clinically dead and lived to tell about it.
It's research on the fringes of ordinary science, but Joanna is about to get a boost from an unexpected quarter. A new doctor has arrived at Mercy General, one with the power to give Joanna the chance to get as close to death as anyone can.
A brilliant young neurologist, Dr. Richard Wright, has come up with a way to manufacture the near-death experience using a psychoactive drug. Dr. Wright is convinced that the NDE is a survival mechanism and that if only doctors understood how it worked, they could someday delay the dying process, or maybe even reverse it. He can use the expertise of a psychologist of Joanna Lander's standing to lend credibility to his study.
But he soon needs Joanna for more than just her reputation. When his key volunteer suddenly drops out of the study, Joanna finds herself offering to become Richard's next subject. After all, who better than she, a trained psychologist, to document the experience?
Her first NDE is as fascinating as she imagined it would be -- so astounding that she knows she must go back, if only to find out why this place is so hauntingly familiar. But each time Joanna goes under, her sense of dread begins to grow, because part of her already knows why the experience is so familiar, and why she has every reason to be afraid....
Excerpt
1
"More light!"
--Goethe's last words
"I heard a noise," Mrs. Davenport said, "and then I was moving through this tunnel."
"Can you describe it?" Joanna asked, pushing the minitape recorder a little closer to her.
"The tunnel?" Mrs. Davenport said, looking around her hospital room, as if for inspiration. "Well, it was dark..."
Joanna waited. Any question, even "How dark was it?" could be a leading one when it came to interviewing people about their near-death experiences, and most people, when confronted with a silence, would talk to fill it, and all the interviewer had to do was wait. Not, however, Mrs. Davenport. She stared at her IV stand for a while, and then looked inquiringly at Joanna.
"Is there anything else you can remember about the tunnel?" Joanna asked.
"No..." Mrs. Davenport said after a minute. "It was dark."
"Dark," Joanna wrote down. She always took notes in case the tape ran out or something went wrong with the recorder, and so she could note the subject's manner and intonation. "Closemouthed," she wrote. "Reluctant." But sometimes the reluctant ones turned out to be the best subjects if you just had patience. "You said you heard a noise," Joanna said. "Can you describe it?"
"A noise?" Mrs. Davenport said vaguely.
If you just had the patience of Job, Joanna corrected. "You said," she repeated, consulting her notes, "'I heard a noise, and then I was moving through this tunnel.' Did you hear the noise before you entered the tunnel?"
"No..." Mrs. Davenport said, frowning, "...yes. I'm not sure. It was a sort of ringing..." She looked questioningly at Joanna. "Or maybe a buzzing?" Joanna kept her face carefully impassive. An encouraging smile or a frown could be leading, too. "A buzzing, I think," Mrs. Davenport said after a minute.
"Can you describe it?"
I should have had something to eat before I started this, Joanna thought. It was after twelve, and she hadn't had anything for breakfast except coffee and a Pop-Tart. But she had wanted to get to Mrs. Davenport before Maurice Mandrake did, and the longer the interval between the NDE and the interview, the more confabulation there was.
"Describe it?" Mrs. Davenport said irritably. "A buzzing."
It was no use. She was going to have to ask more specific questions, leading or not, or she would never get anything out of her. "Was the buzzing steady or intermittent?"
"Intermittent?" Mrs. Davenport said, confused.
"Did it stop and start? Like someone buzzing to get into an apartment? Or was it a steady sound like the buzzing of a bee?"
Mrs. Davenport stared at her IV stand some more. "A bee," she said finally.
"Was the buzzing loud or soft?"
"Loud," she said, but uncertainly. "It stopped."
I'm not going to be able to use any of this, Joanna thought. "What happened after it stopped?"
"It was dark," Mrs. Davenport said, "and then I saw a light at the end of the tunnel, and--"
Joanna's pager began to beep. Wonderful, she thought, fumbling to switch it off. This is all I need. She should have turned it off before she started, in spite of Mercy General's rule about keeping it on at all times. The only people who ever paged her were Vielle and Mr. Mandrake, and it had ruined more than one NDE interview.
"Do you have to go?" Mrs. Davenport asked.
"No. You saw a light--"
"If you have to go..."
"I don't," Joanna said firmly, sticking the pager back in her pocket without looking at it. "It's nothing. You saw a light. Can you describe it?"
"It was golden," Mrs. Davenport said promptly. Too promptly. And she looked smugly pleased, like a child who knows the answer.
"Golden," Joanna said.
"Yes, and brighter than any light I'd ever seen, but it didn't hurt my eyes. It was warm and comforting, and as I looked into it I could see it was a being, an Angel of Light."
"An Angel of Light," Joanna said with a sinking feeling.
"Yes, and all around the angel were people I'd known who had died. My mother and my poor dear father and my uncle Alvin. He was in the navy in World War II. He was killed at Guadalcanal, and the Angel of Light said--"
"Before you went into the tunnel," Joanna interrupted, "did you have an out-of-body experience?"
"No," she said, just as promptly. "Mr. Mandrake said people sometimes do, but all I had was the tunnel and the light."
Mr. Mandrake. Of course. She should have known. "He interviewed me last night," Mrs. Davenport said. "Do you know him?"
Oh, yes, Joanna thought.
"He's a famous author," Mrs. Davenport said. "He wrote The Light at the End of the Tunnel. It was a best-seller, you know."
"Yes, I know," Joanna said.
"He's working on a new one," Mrs. Davenport said. "Messages from the Other Side. You know, you'd never know he was famous. He's so nice. He has a wonderful way of asking questions."
He certainly does, Joanna thought. She'd heard him: "When you went through the tunnel, you heard a buzzing sound, didn't you? Would you describe the light you saw at the end of the tunnel as golden? Even though it was brighter than anything you'd ever seen, it didn't hurt your eyes, did it? When did you meet the Angel of Light?" Leading wasn't even the word.
And smiling, nodding encouragingly at the answers he wanted. Pursing his lips, asking, "Are you sure it wasn't more of a buzzing than a ringing?" Frowning, asking concernedly, "And you don't remember hovering above the operating table? You're sure?"
They remembered it all for him, leaving their body and entering the tunnel and meeting Jesus, remembered the Light and the Life Review and the Meetings with Deceased Loved Ones. Conveniently forgetting the sights and sounds that didn't fit and conjuring up ones that did. And completely obliterating whatever had actually occurred.
It was bad enough having Moody's books out there and Embraced by the Light and all the other near-death-experience books and TV specials and magazine articles telling people what they should expect to see without having someone right here in Mercy General putting ideas in her subjects' heads.
"Mr. Mandrake told me except for the out-of-body thing," Mrs. Davenport said proudly, "my near-death experience was one of the best he'd ever taken."
Taken is right, Joanna thought. There was no point in going on with this. "Thank you, Mrs. Davenport," she said. "I think I have enough."
"But I haven't told you about the heavenly choir yet, or the Life Review," Mrs. Davenport, suddenly anything but reluctant, said. "The Angel of Light made me look in this crystal, and it showed me all the things I'd ever done, both good and bad, my whole life."
Which she will now proceed to tell me, Joanna thought. She sneaked her hand into her pocket and switched her pager back on. Beep, she willed it. Now.
"...and then the crystal showed me the time I got locked out of my car, and I looked all through my purse and my coat pockets for the key..."
Now that Joanna wanted the beeper to go off, it remained stubbornly silent. She needed one with a button you could press to make it beep in emergencies. She wondered if Radio Shack had one.
"...and then it showed my going into the hospital and my heart stopping," Mrs. Davenport said, "and then the light started to blink on and off, and the Angel handed me a telegram, just like the one we got when Alvin was killed, and I said, 'Does this mean I'm dead?' and the Angel said, 'No, it's a message telling you you must return to your earthly life.' Are you getting all this down?"
"Yes," Joanna said, writing, "Cheeseburger, fries, large Coke."
"'It is not your time yet,' the Angel of Light said, and the next thing I knew I was back in the operating room."
"If I don't get out of here soon," Joanna wrote, "the cafeteria will be closed, so please, somebody, page me."
Her beeper finally, blessedly, went off during Mrs. Davenport's description of the light as "like shining prisms of diamonds and sapphires and rubies," a verbatim quote from The Light at the End of the Tunnel. "I'm sorry, I've got to go," Joanna said, pulling the pager out of her pocket. "It's an emergency." She snatched up her recorder and switched it off.
"Where can I get in touch with you if I remember anything else about my NDE?"
"You can have me paged," Joanna said, and fled. She didn't even check to see who was paging her till she was safely out of the room. It was a number she didn't recognize, from inside the hospital. She went down to the nurses' station to call it.
"Do you know whose number this is?" she asked Eileen, the charge nurse.
"Not offhand," Eileen said. "Is it Mr. Mandrake's?"
"No, I've got Mr. Mandrake's number," Joanna said grimly. "He managed to get to Mrs. Davenport before I did. That's the third interview this week he's ruined."
"You're kidding," Eileen said sympathetically. She was still looking at the number on the pager. "It might be Dr. Wright's. He was here looking for you earlier."
"Dr. Wright?" Joanna said, frowning. The name didn't sound familiar. From force of habit, she said, "Can you describe him?"
"Tall, young, blond--"
"Cute," Tish, who'd just come up to the desk with a chart, said.
The description didn't fit anybody Joanna knew. "Did he say what he wanted?"
Eileen shook her head. "He asked me if you were the person doing NDE research."
"Wonderful," Joanna said. "He probably wants to tell me how he went through a tunnel and saw a light, all his dead relatives, and Maurice Mandrake."
"Do you think so?" Eileen said doubtfully. "I mean, he's a doctor."
"If only that were a guarantee against being a nutcase," Joanna said. "You know Dr. Abrams from over at Mt. Sinai? Last week he suckered me into lunch by promising to talk to the hospital board about letting me do interviews over there, and then proceeded to tell me about his NDE, in which he saw a tunnel, a light, and Moses, who told him to come back and read the Torah out loud to people. Which he did. All the way through lunch."
"You're kidding," Eileen said.
"But this Dr. Wright was cute," Tish put in.
"Unfortunately, that's not a guarantee either," Joanna said. "I met a very cute intern last week who told me he'd seen Elvis in his NDE." She glanced at her watch. The cafeteria would still be open, just barely. "I'm going to lunch," she said. "If Dr. Wright shows up again, tell him it's Mr. Mandrake he wants."
She started down to the cafeteria in the main building, taking the service stairs instead of the elevator to avoid running into either one of them. She supposed Dr. Wright was the one who had paged her earlier, when she was talking to Mrs. Davenport. On the other hand, it might have been Vielle, paging her to tell her about a patient who'd coded and might have had an NDE. She'd better check. She went down to the ER.
It was jammed, as usual, wheelchairs everywhere, a boy with a hand wrapped in a red-soaked dish towel sitting on an examining table, two women talking rapidly and angrily in Spanish to the admitting nurse, someone in one of the trauma rooms screaming obscenities in English at the top of her lungs. Joanna worked her way through the tangle of IV poles and crash carts, looking for Vielle's blue scrubs and her black, worried-looking face. She always looked worried in the ER, whether she was responding to a code or removing a splinter, and Joanna often wondered what effect it had on her patients.
There she was, over by the station desk, reading a chart and looking worried. Joanna maneuvered past a wheelchair and a stack of blankets to get to her. "Did you try to page me?" she asked.
Vielle shook her blue-capped head. "It's like a tomb down here. Literally. A gunshot, two ODs, one AIDS-related pneumonia. All DOA, except one of the overdoses."
She put down the chart and motioned Joanna into one of the trauma rooms. The examining table had been moved out and a bank of electrical equipment moved in, amid a tangle of dangling wires and cables. "What's this?" Joanna asked.
"The communications room," Vielle said, "if it ever gets finished. So we can be in constant contact with the ambulances and the chopper and give medical instructions to the paramedics on their way here. That way we'll know if our patients are DOA before they get here. Or armed." She pulled off her surgical cap and shook out her tangle of narrow black braids. "The overdose who wasn't DOA tried to shoot one of the orderlies getting him on the examining table. He was on this new drug, rogue, that's making the rounds. Luckily he'd taken too much, and died before he could pull the trigger."
"You've got to put in a request to transfer to Peds," Joanna said.
Vielle shuddered. "Kids are even worse than druggers. Besides, if I transferred, who'd notify you of NDEs before Mandrake got hold of them?"
Joanna smiled. "You are my only hope. By the way, do you happen to know a Dr. Wright?"
"I've been looking for him for years," Vielle said.
"Well, I don't think this is the one," Joanna said. "He wouldn't be one of the interns or residents in the ER, would he?"
"I don't know," Vielle said. "We get so many through here, I don't even bother to learn their names. I just call all of them 'Stop that,' or, 'What do you think you're doing?' I'll check." They went back out into the ER. Vielle grabbed a clipboard and drew her finger down a list. "Nope. Are you sure he works here at Mercy General?"
"No," Joanna said. "But if he comes looking for me, I'm up on seven-west."
"And what about if an NDEer shows up and I need to find you?"
Joanna grinned. "I'm in the cafeteria."
"I'll page you," Vielle said. "This afternoon should be busy."
"Why?"
"Heart attack weather," she said and, at Joanna's blank look, pointed toward the emergency room entrance. "It's been snowing since nine this morning."
Joanna looked wonderingly in the direction Vielle was pointing, though she couldn't see the outside windows from here. "I've been in curtained patient rooms all morning," she said. And in windowless offices and hallways and elevators.
Copyright © 2001 by Connie Willis
Reviews
Images
No alternate cover images currently exist for this novel.