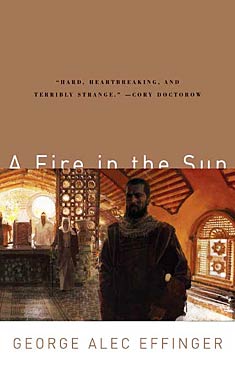 Synopsis
Marid Audran has become everything he once despised. Not so long ago, he was a hustler in the Budayeen, an Arabian ghetto in a Balkanized future Earth.
Back then, as often as not, he didn't have the money to buy himself a drink. But he had his independence.
Now Marid works for Friedlander Bey, "godfather" of the Budayeen, a man whose power stretches across a shattered, crumbling world. During the day, Marid is a policeman... and Bey's personal envoy to the police. His new position has brought him money and power which he would abandon in a moment if he could return to a life of neither owning nor being owned. Which, unfortunately, isn't one of his options.
It's also not an issue. For something dark is afoot. Something that is sending the city into chaos. Helping a child-mutilator to avoid arrest. Sending a killer to murder Marid's partner. Murdering prostitutes and savaging their remains. Signs point to the hand of Abu Adil-the one man in the city whose power rivals Friedlander Bey's. Whatever happens next, it's not going to be good news for Marid Audran...
Excerpt
No excerpt currently exists for this novel. Be the first to submit one!

Submit an Excerpt
Reviews
Images
No alternate cover images currently exist for this novel. Be the first to submit one!