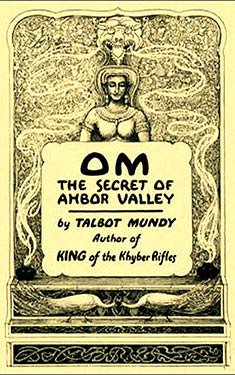 Om, the Secret of Ahbor Valley
Synopsis
An expedition in 1920s India searches for a lost tribe, a holy Lama, and a piece of jade that possesses supernatural powers.
Excerpt
If you want views about the world's news, read what Cottswold Ommony calls the views papers; there is plenty in them that thoroughly zealous people believe. But remember the wise old ambassador's word of caution to his new subordinate: "And above all, no zeal!" If you want raw facts devoid of any zeal whatever try the cafes and the clubs; but you must sort the facts and correlate them for yourself, and whether or not that process shall leave you capable of thought of any kind must depend entirely on your own ability. Thereafter, though you may never again believe a newspaper, you will understand them and if you are reasonably human sympathize.
There used to be a cafe in Vienna, where a man might learn enough in fifty minutes to convince him that Europe was riding carelessly to ruin; but that was before 1914 when the riders, using rein and spur at last, rode straight for it.
There is still a club in Delhi, where you may pick up odds and ends of information from over the Pamirs, from Nepaul, from Samarkand, Turkestan, Arabia and the Caucasus, all mixed up with fragments from the olla podrida of races known collectively as India. And having pieced them all together you may go mad there, as comfortably as in Colney Hatch, but with this advantage: that nobody will interfere with you, provided you pay your bills on the first of the month and refrain from sitting on two newspapers while you read a third.
It is a good club, of the die-hard kind; fairly comfortable; famous for its curry. It has done more to establish empire, and to breed ill-will, than any other dozen institutions. Its members do not boast, but are proud of the fact that no Indian, not even a Maharajah, has ever set foot over it's threshold; yet they are hospitable, if a man knows how to procure the proper introduction (no women are admitted on any pretense), and by keeping quiet in a long-armed chair you may receive an education. You may learn, for instance, who is and who is not important, and precisely why. You may come to understand how the old guard, everywhere, inevitably must die in the last ditch. And, if you have it in you, you will admire the old guard, without trying to pretend that you agree with them.
Copyright © 1924 by Talbot Mundy
Reviews
There are currently no reviews for this novel. Be the first to submit one! You must be logged in to submit a review in the BookTrackr section above.
Images
No alternate cover images currently exist for this novel. Be the first to submit one!