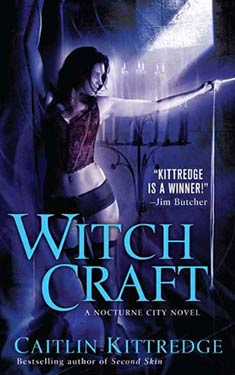 Synopsis
Someone, or something, is setting fire to the homes of the city's most infamous non-humans, racking up a body count that's growing by the day. And strange, otherworldly creatures no one has seen before--selkies trolls and harpies--are causing chaos throughout the city. Racing to stop the carnage, Luna turns to sexy federal agent Will Fagin for help. As they work to uncover the source of the bloodshed, Luna's attraction for Will deepens. But just as she learns Will's darkest secret, Nocturne City is thrust into total chaos--leaving Luna and Will in a path of destruction they may not be able to stop... or survive.
Excerpt
One
Chaos crept up on me like someone had tossed a stone into a pond. I was sitting in a window booth at the Devere Diner, shoving a double bacon cheeseburger into my mouth, while across the expanse of red formica table Detective David Bryson did the same with a grilled chicken club.
"Cholesterol," he explained around a mouthful of lettuce and dead bird. "Doc said I'm going to keel over if I don't cut back on the carbs or calories or what have you. Put me on one of that whatchacallit--Long Beach Diet."
"South Beach," I corrected him, taking a pull at my diet soda. Just because I have a werewolf metabolism doesn't mean I need to abuse it.
"However you call it," Bryson said. "All I know is that in a week, I get to maybe eat a burger once in a while." He regarded his sandwich the way most people regarded a dead pigeon on the sidewalk.
"My sympathies," I said, and signaled the waitress for a slice of pie. Bryson glared at me. The waitress finished writing an order for two uniformed cops at the counter and sashayed over. Bryson checked her out. She checked him out.
I cleared my throat. "I'd like a slice of key lime, when you two are done."
"Krystal," said Bryson, reading the name tag. "You ever get down to my part of the city, cutie?"
"Depends what part we're talking about, honey," she said, batting her heavy fake eyelashes at him.
I kicked Bryson on the ankle. "Pie. Key lime. Essential to my continued good health and temperament."
A fire engine roared down Devere, sirens going full blast, and drowned me out. The waitress cupped her ear. "Huh?"
"Key lime!"
A pair of patrol cars followed, their lights revolving heartbeat quick, tires laying black rubber streaks as they took the turn onto Hillside Avenue at top speed.
"Say that one more time, honey." The waitress was still smiling at Bryson. She was brassy-skinned from a spray-on tan and had a red bouffant piled on top of her head. She and Bryson, who was a bull-necked man with powerful arms, a greasy pompadour, and small bright blue eyes, would make a cute couple. You know, if you were into that sort of thing.
"Key lime," I said, rubbing the back of my neck. I could still hear the sirens, even though they were long gone into the crisp October air. Were hearing is sensitive. I could hear Bryson's heartbeat, too, how it quickened when Krystal looked at him.
It was five days before Halloween. The leaves were falling and paper pumpkins and ghosts were everywhere. Halloween made everything seem benign. You could almost forget that the real monsters might be sharing a subway car or a cubicle with you.
The patrolmen at the counter jumped as their radios crackled. The dispatcher burbled their call numbers and then squawked out, "Eleven-seventy-one in progress at One-oh-seven Hillside Avenue. Fire and rescue en route. All units respond."
To give the cops credit, they were a well-oiled machine. One dug out a twenty and threw it on the counter while the other grabbed his car keys off the counter and ran out the door to start their prowl car. "Dispatch, Ten-ninety-seven is en route," the second cop bit off into his clip mic, before he followed his partner.
The ripples spread out from the stone fall, and a beat after the door slammed shut after the two uniformed cops, my BlackBerry went off. Bryson's pager followed it a moment later.
I tore it off my belt and looked at the text message. 107 Hillside. ASAP. That had to be Annemarie. Only she would dare ASAP the boss. Bryson looked at me, blinked once. "One-oh-seven Hillside?" he asked. I nodded.
Bryson snapped his fingers at the waitress. "Krystal, doll? We're gonna need that pie to go."