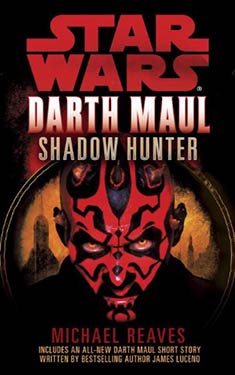 Synopsis
Contents:
Shadow Hunter - (2001) - novel by Michael Reaves
Darth Maul: Saboteur - novella by James Luceno
Not long before the events of THE PHANTOM MENACE, the Sith Lord, Darth Sidious, is meeting via hologram with the Neimoidian Viceroy, Nute Gunray, and his seconds in command. But something is wrong: Where there are three Neimoidians, there should be a fourth. Where is he? No one knows. Angry and suspicious, sure that the fourth Neimoidian, Hath Monchar, is out there blabbing Darth Sidious' secrets, Sidious sends his apprentice, Darth Maul, out to investigate. His mission: Find and kill Hath Monchar. Then figure out whom Monchar might have spoken with, and kill them, too. Lorn Pavan is an information broker, who makes his living finding information and selling it to the highest bidder. When the Neimoidian, Hath Monchar, shows up with a very interesting holocron with information about an actual, living - and evil-plotting - Sith Lord, Lorn knows he's got something really hot. So when Monchar is murdered, Lorn manages to get his hands on the holocron anyway. His motives are anything but noble. Darsha Assant is a Jedi Padawan. She and Lorn find themselves thrown together unexpectedly, and when they realize that it is a Sith Lord on their trail, they realize that they must somehow get the holocron to the Jedi Council. But Darth Maul is too good a tracker. What's more, he's never failed his Master, Darth Sidious, and he doesn't intend to this time, either...
Excerpt
No excerpt currently exists for this novel.
Reviews
There are currently no reviews for this novel. Be the first to submit one! You must be logged in to submit a review in the BookTrackr section above.
Images
No alternate cover images currently exist for this novel.