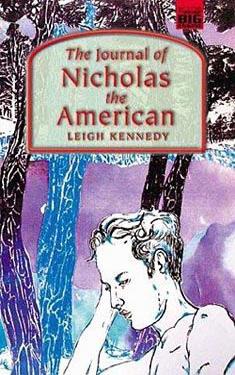 The Journal of Nicholas the American
Author:
Leigh Kennedy

Publisher:
Atlantic Monthly Press, 1986

Series:

This book does not appear to be part of a series. If this is incorrect, and you know the name of the series to which it belongs, please let us know.

Submit Series Details

Book Type:
Novel
Genre:
Science-Fiction
Sub-Genre Tags:
Awards:
Lists:
Links:
Avg Member Rating:

(9 reads / 4 ratings)
Synopsis
Nicholas Dal, a semi-drunken recluse, is a tele-empath who experiences the emotions of those around him. His family have fled from Russia to the USA to escape the deadly curse but to no avail. Now a psychiatrist is onto him and his feelings for a fellow student threaten to destroy his sanity.
Excerpt
Papa visited me last night. I am thinking that I may have to hide now.
Once again, some has discovered us - he's looking for the family, looking for the pozhar-golava. When I was small, a man came looking for old scandal. He didn't know that dealing with Fyodor Nicholaevich was like trying to fool yourself. Grandfather (my Papa told me once) had him figured out in a moment; he knew he could lie to him, and he did. No, the Dals were city people, from Petrograd - oh, no, we must call it Leningrad now, eh? The man was a refugee from the Hungarian Uprising in 1957, still new to America. Grandfather snowed him with political talk, but if he had been from the Soviet Union, all the lies would have been transparent.
The search for pozhar-golava was forgotten - obviously our family had nothing to do with strange powers and bloody nights.
When I got home from class yesterday, I knew that Papa was in my apartment. I felt him there as I wheeled my bicycle into the garage. I picked up the vodka bottle that I had tossed down onto the grass from the top of the steps last week when I'd been drinking. My landlady never seemed to notice such things, but I felt guilty.
As I got out my key - I don't know why I always pretend ignorance about my father's presence - he was already saying hello in his way.
"Papa," I said, and set my texts on the bookshelves inside the door, then carried my package to the kitchen.
"How are you, Kolya?"
"Fine, fine." I opened the cupboard in my tiny kitchen and took down two glasses.
My father stood in the doorway. "Can't we talk first?"
I could feel him probing me. I've never been resistant to him, and didn't want him worming through me. He was lonely. He was afraid of me. All as usual. I couldn't bear even half an hour of this.
"Please. Drink with me," I said. I balled up the paper bag and threw it against the wall. He knew I was angry. I've told him so many times to warn me about his visits, but, no, he will never learn American manners. I poured us each a glass of vodka and handed him one.
He sighed and took a long swallow. I saluted him. He smiled and returned the salute. We drank and I refilled the plastic glasses. It was warm, I could feel it begin to scrub me clean.
"Have you seen Grandmama lately?" I asked.
"How are your studies?" From his evasion I understood that he hadn't been home for a long time.
"Some day I'll finish. Let's go sit."
My father and I sat on my bed - or, rather, the mattresses on the floor. I noticed a parcel sitting on the pillow, but didn't ask about it. He looked tired. Sometimes when I look at him, I think I see the flour of his bakery in the creases around his eyes, in the temples of his hair, but it is only age. My father looks old and tired now.
We drank for a moment, and relaxed.
"Have you been drinking a lot?" he asked.
"No. This is the first time since last week. I have to study, so I stop during the week. It's quiet here, anyway. The landlady," I pointed downstairs, "is a mouse. She doesn't disturb me. I feel good now, things are working out. Maybe next spring I'll start graduate school."
"Good," Papa said vaguely.
"And you? Any new lady friends now?"
"Had one. I think I told you about her. She was too - wild," he said, using the English word. He laughed a little and drank. "I am not as young and handsome as you, Kolya."
"Pah," I said, waving him off. "I don't have time for that."
Papa sighed. "Will I never have grandchildren?"
"Listen, all the world needs is more of us." I didn't mean to be irritable, but he asks too much. I constantly disappoint him.
"I brought you something." Papa reached behind and picked up the parcel from the pillow.
I opened the bag and looked in. It was a small book on jade. The covers and pages were slick: inside were black and white photographs, and in the middle, four pages of colour plates. "It's beautiful, Papa." I sat and sipped my vodka, looking at each piece illustrated. It wasn't in this book, either, but Papa knew that. He would buy me every book, until we either found it again, or were satisfied that we would never glimpse it again, even in a photo.
I went to the kitchen and brought the bottle back. Papa was resigned, he lifted his glass for more. ""Do you want to stay tonight?" I asked, feeling glad to have him with me after all.
"Yes, Nicholas, I think I should."
And the serious of his face frightened me. He had brought news - Grandmama? I pulled a cigarette from my shirt pocket and lit it with a book of matches that lay on the floor.
"What?" I said impatiently.
"There is a man looking for us."
"Oh." I pulled in a breath of air, I don't know how. My chest felt crushed. "Who?"
"A psychiatrist, I guess. He called Mama and talked to her." Papa took another long drink. "She didn't tell him anything. He didn't talk to her long, but he asked if he could visit her and she ..."
"Wait, don't tell me anything for a minute." I reeled when I stood. I hurried to the bathroom and stood over the john and heaved into it. I felt better, but still sick. I washed my face and hands. When I looked in the mirror, Papa was there, outside the bathroom.
Copyright © 1986 by Leigh Kennedy
Reviews
There are currently no reviews for this novel. Be the first to submit one! You must be logged in to submit a review in the BookTrackr section above.
Images
No alternate cover images currently exist for this novel.