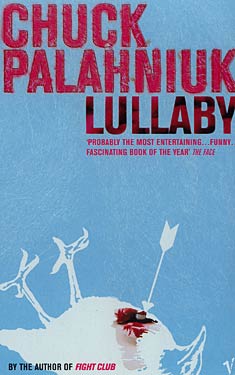 Synopsis
Ever heard of a culling song? It's a lullaby sung in Africa to give a painless death to the old or infirm. The lyrics of a culling song kill, whether spoken or even just thought. You can find one on page 27 of Poems and Rhymes from Around the World, an anthology that is sitting on the shelves of libraries across the country, waiting to be picked up by unsuspecting readers.
Reporter Carl Streator discovers the song's lethal nature while researching Sudden Infant Death Syndrome, and before he knows it, he's reciting the poem to anyone who bothers him. As the body count rises, Streator glimpses the potential catastrophe if someone truly malicious finds out about the song. The only answer is to find and destroy every copy of the book in the country. Accompanied by a shady real-estate agent, her Wiccan assistant, and the assistant's truly annoying ecoterrorist boyfriend, Streator begins a desperate cross-country quest to put the culling song to rest.
Written with a style and imagination that could only come from Chuck Palahniuk, Lullaby is the latest outrage from one of our most exciting writers at work today.
Excerpt
Prologue
At first, the new owner pretends he never looked at the living room floor. Never really looked. Not the first time they toured the house. Not when the inspector showed them through it. They'd measured rooms and told the movers where to set the couch and piano, hauled in everything they owned, and never really stopped to look at the living room floor.
They pretend. Then on the first morning they come downstairs, there it is, scratched in the white-oak floor:
GET OUT
Some new owners pretend a friend has done it as a joke. Others are sure it's because they didn't tip the movers. A couple of nights later, a baby starts to cry from inside the north wall of the master bedroom.

This is when they usually call. And this new owner on the phone is not what our hero, Helen Hoover Boyle, needs this morning. This stammering and whining. What she needs is a new cup of coffee and a seven-letter word for "poultry." She needs to hear what's happening on the police scanner. Helen Boyle snaps her fingers until her secretary looks in from the outer office. Our hero wraps both hands around the mouthpiece and points the telephone receiver at the scanner, saying, "It's a code nine-eleven." And her secretary, Mona, shrugs and says, "So?"
So she needs to look it up in the codebook.
And Mona says, "Relax. It's a shoplifter."
Murders, suicides, serial killers, accidental overdoses, you can't wait until this stuff is on the front page of the newspaper. You can't let another agent beat you to the next rainmaker.
Helen needs the new owner at 325 Crestwood Terrace to shut up a minute. Of course, the message appeared in the living room floor. What's odd is the baby doesn't usually start until the third night. First the phantom message, then the baby cries all night. If the owners last long enough, they'll be calling in another week about the face that appears, reflected in the water when you fill the bathtub. A wadded-up face of wrinkles, the eyes hollowed-out dark holes.
The third week brings the phantom shadows that circle around and around the dining room walls when everybody is seated at the table. There might be more events after that, but no-body's lasted a fourth week.
To the new owner, Helen Hoover Boyle says, "Unless you're ready to go to court and prove the house is unlivable, unless you can prove beyond a shadow of a doubt that the previous owners knew this was happening ..."
She says, "I have to tell you." She says, "You lose a case like this, after you generate all this bad publicity, and that house will be worthless."
It's not a bad house, 325 Crestwood Terrace, English Tudor, newer composition roof, four bedrooms, three and a half baths. An in-ground pool. Our hero doesn't even have to look at the fact sheet. She's sold this house six times in the past two years. Another house, the New England saltbox on Eton Court, six bedrooms, four baths, pine-paneled entryway, and blood running down the kitchen walls, she's sold that house eight times in the past four years.
To the new owner, she says, "Got to put you on hold for a minute," and she hits the red button.
Helen, she's wearing a white suit and shoes, but not snow white. It's more the white of downhill skiing in Banff with a private car and driver on call, fourteen pieces of matched luggage, and a suite at the Hotel Lake Louise.
To the doorway, our hero says, "Mona? Moonbeam?" Louder, she says, "Spirit-Girl?"
She drums her pen against the folded newspaper page on her desk and says, "What's a three-letter word for 'rodent'?"
The police scanner gargles words, mumbles and barks, repeating "Copy?" after every line. Repeating "Copy?"
Helen Boyle shouts, "This coffee is not going to cut it."
In another hour, she needs to be showing a Queen Anne, five bedrooms, with a mother-in-law apartment, two gas fireplaces, and the face of a barbiturate suicide that appears late at night in the powder room mirror. After that, there's a split-level ranch FAG heat, a sunken conversation pit, and the reoccurring phantom gunshots of a double homicide that happened over a decade ago. This is all in her thick daily planner, thick and bound in what looks like red leather. This is her record of everything.
She takes another sip of coffee and says, "What do you call this? Swiss Army mocha? Coffee is supposed to taste like coffee."
Mona comes to the doorway with her arms folded across her front, and says, "What?"
And Helen says, "I need you to swing by--she shuffles some fact sheets on her blotter--"swing by 4673 Willmont Place. It's a Dutch Colonial with a sunroom, four bedrooms, two baths, and an aggravated homicide."
The police scanner says, "Copy?"
"Just do the usual," Helen says, and she writes the address on a note card and holds it out.
"Don't resolve anything. Don't burn any sage. Don't exorcise shit."
Mona takes the note card and says, "Just check it for vibes?"
Helen slashes the air with her hand and says, "I don't want anybody going down any tunnels toward any bright light. I want these freaks staying right here, on this astral plane, thank you."
She looks at her newspaper and says, "They have all eternity to be dead. They can hang around in that house another fifty years and rattle some chains."
Helen Hoover Boyle looks at the blinking hold light and says, "What did you pick up at the six-bedroom Spanish yesterday?"
And Mona rolls her eyes at the ceiling. She pushes out her jaw and blows a big sigh, straight up to flop the hair on her forehead, and says, "There's a definite energy there. A subtle presence. But the floor plan is wonderful." A black silk cord loops around her neck and disappears into the corner of her mouth.
And our hero says, "Screw the floor plan."
Forget those dream houses you only sell once every fifty years. Forget those happy homes. And screw subtle: cold spots, strange vapors, irritable pets. What she needed was blood running down the walls. She needed ice-cold invisible hands that pull children out of bed at night. She needed blazing red eyes in the dark at the foot of the basement stairs. That and decent curb appeal.
The bungalow at 521 Elm Street, it has four bedrooms, original hardware, and screams in the attic.
The French Normandy at 7645 Weston Heights has arched windows, a butler's pantry, leaded-glass pocket doors, and a body that appears in the upstairs hallway with multiple stab wounds.
The ranch-style at 248 Levee Place--five bedrooms, four and a fact sheets on her blotter--"swing by 4673 Willmont Place. It's a half baths with a brick patio--it has the reappearing blood coughed up on the master bathroom walls after a drain cleaner poisoning.
Distressed houses, Realtors call them. These houses that never sold because no one liked to show them. No Realtor wanted to host an open house there, risk spending any time there alone. Or these were the houses that sold and sold again every six months because no one could live there. A good string of these houses, twenty or thirty exclusives, and Helen could turn off the police scanner. She could quit searching the obituaries and the crime pages for suicides and homicides. She could stop sending Mona out to check on every possible lead. She could just kick back and find a five-letter word for "equine."
"Plus I need you to pick up my cleaning," she says. "And get some decent coffee." She points her pen at Mona and says, "And out of respect for professionalism, leave the little Rasta doohickeys at home."
Mona pulls the black silk cord until a quartz crystal pops out of her mouth, shining and wet.
She blows on it, saying, "It's a crystal. My boyfriend, Oyster, gave it to me."
And Helen says, "You're dating a boy named Oyster?"
And Mona drops the crystal so it hangs against her chest and says, "He says it's for my own protection." The crystal soaks a darker wet spot on her orange blouse.
"Oh, and before you go," Helen says, "get me Bill or Emily Burrows on the phone."
Helen presses the hold button and says, "Sorry about that." She says there are a couple of clear options here. The new owner can move, just sign a quitclaim deed and the house becomes the bank's problem.
"Or," our hero says, "you give me a confidential exclusive to sell the house. What we call a vest-pocket listing."
And maybe the new owner says no this time. But after that hideous face appears between his legs in the bathwater, after the shadows start marching around the walls, well, everyone says yes eventually.
On the phone, the new owner says, "And you won't tell any buyers about the problem?"
And Helen says, "Don't even finish unpacking. We'll just tell people you're in the process of moving out."
If anybody asks, tell them you're being transferred out of town. Tell them you loved this house.
She says, "Everything else will just be our little secret."
From the outer office, Mona says, "I have Bill Burrows on line two."
And the police scanner says, "Copy?"
Our hero hits the next button and says, "Bill!"
She mouths the word Coffee at Mona. She jerks her head toward the window and mouths, Go.
Copyright © 2002 by Chuck Palahniuk
Reviews
Images
No alternate cover images currently exist for this novel. Be the first to submit one!