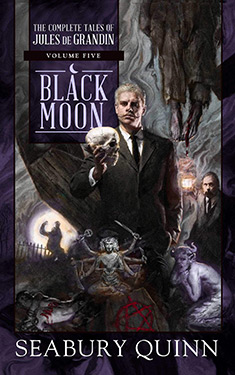 Synopsis
The concluding volume in a series collecting the stories of Jules de Grandin, the supernatural detective made famous in the classic pulp magazine Weird Tales.
Today the names of H. P. Lovecraft, Robert E. Howard, August Derleth, and Clark Ashton Smith, all regular contributors to the pulp magazine Weird Tales during the first half of the twentieth century, are recognizable even to casual readers of the bizarre and fantastic. And yet despite being more popular than them all during the golden era of genre pulp fiction, there is another author whose name and work have fallen into obscurity: Seabury Quinn.
Quinn's short stories were featured in well over half of Weird Tales's original publication run. His most famous character, the French supernatural detective Dr. Jules de Grandin, investigated cases involving monsters, devil worshippers, serial killers, and spirits from beyond the grave, often set in the small town of Harrisonville, New Jersey. In de Grandin there are familiar shades of both Arthur Conan Doyle's Sherlock Holmes and Agatha Christie's Hercule Poirot, and alongside his assistant, Dr. Samuel Trowbridge, de Grandin's knack for solving mysteries--and his outbursts of peculiar French-isms (Grand Dieu!)--captivated readers for nearly three decades.
The fifth volume, Black Moon, includes all the stories from "Suicide Chapel" (1938) to "The Ring of Bastet" (1951), as well as an introduction by George Vanderburgh and Robert Weinberg and a foreword by Stephen Jones.
Table of Contents:
Introduction (Black Moon) - essay by George A. Vanderburgh and Robert Weinberg]
The Further Appearances of Jules de Grandin - essay by Stephen Jones
Suicide Chapel (1938)
Black Moon (1938)
The Poltergeist of Swan Upping (1939)
The House Where Time Stood Still (1939)
Mansions in the Sky (1939)
The House of the Three Corpses (1939)
Stoneman's Memorial (1942)
Death's Bookkeeper (1944)
The Green God's Ring (1945)
Lords of the Ghostlands (1945)
Kurban (1946)
The Man in Crescent Terrace (1946)
hree in Chains (1946)
Catspaws (1946)
Lottë (1946)
Eyes in the Dark (1946)
Clair de Lune (1947)
Vampire Kith and Kin (1949)
Conscience Maketh Cowards (1949)
The Body-Snatchers (1950)
The Ring of Bastet (1951)
Excerpt
No excerpt currently exists for this novel.
Reviews
There are currently no reviews for this novel. Be the first to submit one! You must be logged in to submit a review in the BookTrackr section above.
Images
No alternate cover images currently exist for this novel.