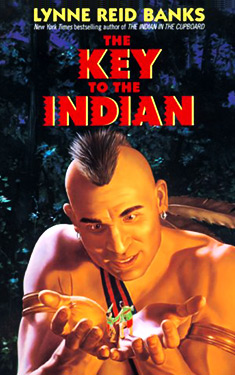 Synopsis
Can the magic save Little Bear?
In The Mystery of the Cupboard, Omri's father discovered his magical secret. Now Little Bear, Omri's Iroquois friend from the past, is in grave danger and needs their help. As father and son struggle to solve the problem of traveling through time to reach Little Bear, they cannot know what terrors lie in wait - for their Indian friends and for them.
Excerpt
He felt a draft of cold air. Instinctively he put his arms around his body. Then he looked down at himself and got a shock. He was naked...His first instinct was to hid. he scrambled over the earth floor of the longhouse and ducked under the curtain. Beyond was deeper darkness, but he could make out a sort of room with a raised section against the wall. On this was a mountain range covered with fur, in the shape of a sleeping giant.
Omri stared all around, feeling the beginnings of panic. "Dad!" he whispered as loudly as he dared...
There was no answer. Omri felt intensely vulnerable with no clothes on. Cold air embraced his skin from head to foot. He felt a sudden longing to go home. He hadn't reckoned on this--being separated from his dad, it being so dark and cold, so strange, so lonely.
Copyright © 1998 by Lynne Reid Banks
Reviews
There are currently no reviews for this novel. Be the first to submit one! You must be logged in to submit a review in the BookTrackr section above.
Images
No alternate cover images currently exist for this novel.