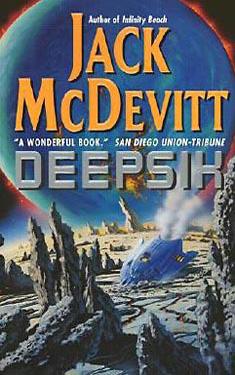 Synopsis
A spellbinding epic adventure of discovery, catastrophe, and survival from one of the most masterful storytellers in speculative fiction.
In the year 2204, tragedy and terror forced a scientific team to prematurely evacuate Maleiva III. Twenty-one years later, the opportunity for scientists to study this galactic rarity -- a life-supporting planet -- is about to vanish forever, as a rogue gas giant has invaded the planetary system on a deadly collision course with the world they are now calling Deepsix.
A superluminal pilot for the Academy of Science and Technology, Priscilla "Hutch" Hutchins is the only even remotely qualified professional within lightyears of Deepsix. With less than three weeks left before the disaster, she and a small scientific team -- including Randall Nightingale, a survivor of the original expedition who was made the scapegoat for its failure -- must descend to the surface, and glean whatever they can about the doomed planet's lifeforms and lost civilizations.
There is more to this strange and complex world, however, than anyone could have imagined: hidden predators stone cities under the ice remnants of a warlike, primitive society, yet with inexplicable hints of an impossible technology buried in the rubble ... and in orbit around the soon to be demolished planet. The deeper Hutch and her team delve, the more puzzles are revealed within puzzles, and startling discoveries lead only to greater and more perplexing questions.
But then the unthinkable occurs. An earthquake destroys the explorers' only means of escape. As scientists and sightseers who have come to witness the spectacular end of Deepsix watch helplessly from miles above, Hutch and her people must survive somehow on a hostile planet going rapidly mad. And with the clock ticking relentlessly toward an unavoidable apocalypse, they must find some way, any way, to get off before Deepsix plunges like a pebble into the limitless depths of the rampaging gas giant.
From the acclaimed author of Infinity Beach comes the ultimate survival adventure -- a riveting, relentlessly suspenseful, awesomely possible tale with a firm foundation in hard science which showcases the best and the worst aspects of complex human nature. It is yet another stunning achievement by Jack McDevitt, proving without a doubt that he is indeed the true heir to Isaac Asimov and Arthur C. Clarke.
Excerpt
No excerpt currently exists for this novel.
Reviews
Images
No alternate cover images currently exist for this novel.