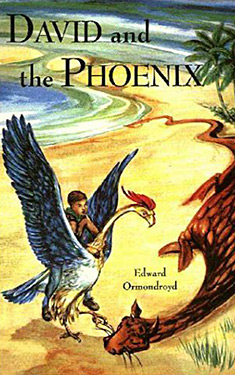 Synopsis
With a tremendous surge of its wings, the Phoenix managed to seize a branch. David's legs slipped from the bird's back, and he dangled over the abyss.
Thus ends the near-disaster of their first flight together. But don't underestimate the Phoenix! Failure only makes David's new-found friend determinded to get into shape so that David's education for Life can proceed.
And get into shape the fabulous bird does just as they conclude their first successful (and very scary) adventure, the Scientist appears. Don't underestimate the Scientist, either. He is just as stubborn as the Phoenix, and is driven by one obsession: to become famous by capturing the mythic bird. And if his traps don't work, he is fully prepared to shoot the Phoenix...
Excerpt
All the way there David had saved this moment for himself, struggling not to peek until the proper time came. When the car finally stopped, the rest of them got out stiffly and went into the new house. But David walked slowly into the back yard with his eyes fixed to the ground. For a whole minute he stood there, not daring to look up. Then he took a deep breath, clenched his hands tightly, and lifted his head.
There it was! - as Dad had described it, but infinitely more grand. It swept upward from the valley floor, beautifully shaped and soaring, so tall that its misty blue peak could surely talk face to face with the stars. To David, who had never seen a mountain before, the sight was almost too much to bear. He felt so tight and shivery inside that he didn't know whether he wanted to laugh, or cry, or both. And the really wonderful thing about the mountain was the way it looked at him. He was certain that it was smiling at him, like an old friend who had been waiting for years to see him again. And when he closed his eyes, he seemed to hear a voice which whispered, 'Come along, then, and climb.'
It would be so easy to go! The back yard was hedged in (with part of the hedge growing right across the toes of the mountain), but there was a hole in the privet large enough to crawl through. And just beyond the hedge the mountainside awaited him, going up and up in one smooth sweep until green and tawny faded into hazy heights of rock. It was waiting for him. 'Come and climb,' it whispered, 'come and climb.'
But there was a great deal to do first. They were going to move into the new house. The moving van was standing out in front, the car must be unloaded. David would be needed to carry things. Regretfully, he waved his hand at the peak and whispered, 'It shouldn't take long - I'll be back as soon as I can.' Then he went around to the front door to see what could be done about speeding things up.
Inside, everything was in confusion. Dad was pushing chairs and tables around in an aimless way saying, 'They'll all have to go out again; we forgot to put down the rug first.' Aunt Amy was making short dashes between the kitchen and the dining room, muttering to herself. And Beckie was roaring in her crib because it was time for her bottle. David asked, 'Can I do anything?' - hoping that the answer would be no.
'C'mere,' Aunt Amy said, grabbing him by the arm. 'Help me look for that ironing board.'
When the ironing board was finally located, Mother had something for him to do. And when he finished with that, Dad called for his help. So the afternoon wore on without letup - and also without any signs of progress in their moving. When David finally got a chance to sneak out for a breathing spell, he felt his heart sink. Somehow, in all the rush and confusion, the afternoon had disappeared. Already the evening sun was throwing shadows across the side of the mountain and touching its peak with a ruddy blaze. It was too late now. He would have to wait until the morning before he could climb.
As he gazed up miserably at the glowing summit, he thought he saw a tiny speck soar out from it in a brief circle. Was it a bird of some sort, or just one of those dots that swim before your eyes when you stare too long at the sky? It almost seemed like the mountain waving its hand, as if to say that it was quite all right for him to wait until morning. He felt better then, and returned more cheerfully to moving.
Copyright © 1957 by Edward Ormondroyd
Reviews
There are currently no reviews for this novel. Be the first to submit one! You must be logged in to submit a review in the BookTrackr section above.
Images
No alternate cover images currently exist for this novel.