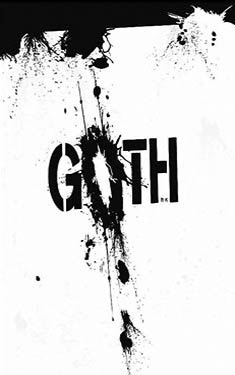 Film & Television Adaptations
Synopsis
The novel contains a series of six short stories about two high school students: a boy who remains unnamed until late in the story, and a girl named Yoru Morino. Both share a similar interest in gruesome murders.
Goth (Dark Type) - Morino finds a diary written by a serial killer. It describes a third victim that has yet to be discovered, so she and the narrator go to look at it. Morino then begins dressing like the third victim, and a few days later, sends a text message to the narrator, which reads only, "Help."
Wristcut (The Wristcut Incident) - Flashback to before Morino and the narrator were friends. After finding a doll with no hands in the science lab garbage can, the narrator breaks into the science teacher's house, convinced he has been the one cutting hands off people of all ages in the city. He then steals the teacher's hand collection, and plants evidence to suggest Morino was the one who stole them - because he wants Morino's hand, and the scar from when she cut her wrist.
Dog (Dog) - The narrator investigates a series of dog kidnappings after his sister discovers a pit filled with their bodies. A young girl and her pet dog have been plotting to defend themselves against her mother's abusive boyfriend.
Twins (Memories) - Morino has been having trouble sleeping, and is looking for a rope to put around her neck - the right rope will help her sleep. At the narrator's urging, she tells the story of how she and her twin sister, Yu, often pretended to be dead...until Yu accidentally hanged herself.
Grave (Soil) - Saeki spends all his free time gardening, digging holes to try to control his obsession with burying people alive. He's already given in once, and killed a young neighbor boy, drowning him in his coffin. Now he's snatched a high school girl off the street - according to her ID, her name is Yoru Morino.
Voice (Voice) - Natsumi's older sister was recently found chopped to pieces in an abandoned hospital. A few weeks later, a mysterious high school boy gives Natsumi a tape - a message from her sister, recorded just before she was murdered. If she wants the rest, she will have to come to the hospital, and allow him to murder her.
Excerpt
No excerpt currently exists for this novel. Be the first to submit one!

Submit an Excerpt
Reviews
There are currently no reviews for this novel. Be the first to submit one! You must be logged in to submit a review in the BookTrackr section above.
Images
No alternate cover images currently exist for this novel. Be the first to submit one!