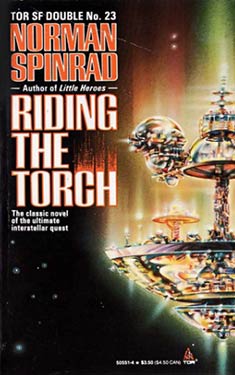 Synopsis
Jofe D'mahl, a senso producer, is one of the chief entertainers aboard the generation torchship Brigadoon. Ego to the brim and the ship's main socialite, he has no time for the voidsuckers--the sullen men and women who go beyond the massive ship's hydrogen umbra to seek out new planets for its passengers to settle. Goaded into taking one such trip after a voidsucker news bulletin upstages his latest senso, however, D'mahl has the experience of his life. Cut off from all technology and social affairs of the Brigadoon, he is offered a new perspective on existence. Problem is, he also comes upon knowledge that unhinges his mindset regarding the Brigadoon's mission.
The Tin Soldier:
Can human love survive the distance between the Stars?
"Tin Soldier" tells the story of Maris, an ex-soldier who, following wounds sustained in battle, has received cybernetic implants that, as a side effect, slow his aging to "about five years for every hundred" (he is 115 years old as the story begins, though physically he looks "about twenty-five"), and Brandy (short for Branduin), a female starship crew member.
The novella follows the relationship that develops between these two people who fall in love, but through circumstances can only see each other for a few days every 25 years.
Excerpt
No excerpt currently exists for this novel.
Reviews
There are currently no reviews for this novel. Be the first to submit one! You must be logged in to submit a review in the BookTrackr section above.
Images
No alternate cover images currently exist for this novel.