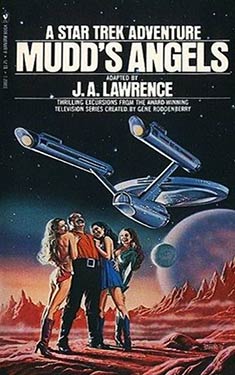 Mudd's Angels: or Mudd's Enterprise
Synopsis
This is a novel in three parts: "Mudd's Women" and "I, Mudd" are novelizations of Star Trek The Original Series TV episodes, and "The Business, as Usual, During Altercations" is a new novella written by J.A. Lawrence for this book.
In "Mudd's Women", the USS Enterprise chases an unregistered starship, a small class J cargo vessel. Fleeing, the ship approaches an asteroid belt with a Schiller Rating of 35. The small ship's peril increases further when its desperate speed causes its engines to overheat. The Enterprise rescues the pilot - who turns out to be a con man named Harry Mudd trafficking in mail-order brides.
In "I, Mudd", a crewman hijacks the Enterprise and diverts it to a planet 4 days away. Upon arrival at their altered destination, Captain Kirk and the crew discover that Harry Mudd is now ruler of a planet of androids. After capturing the Enterprise, Mudd imprisons Kirk in an attempt at revenge, intending to replace him with an android duplicate which Mudd can control.
In "The Business, as Usual, During Altercations," on Stardate 6273.6 the Enterprise is ordered to discover the reason for a sudden shortage of dilithium. The crew discovers that all the dilithium has been bought from its suppliers by a variety of companies, all headquartered on the planet Liticia. Trouble looms when Chekov realizes that Liticia is actually Mudd, the android planet where they left Harry Mudd. They arrive at Liticia to find that Mudd has been trading female androids to the miners for their dilithium. When he learns that Mudd has just fled Liticia with the dilithium, Kirk orders the Enterprise in pursuit.
republished as Mudd's Enterprise by Bantam Spectra in 1994
Excerpt
No excerpt currently exists for this novel.
Reviews
There are currently no reviews for this novel. Be the first to submit one! You must be logged in to submit a review in the BookTrackr section above.
Images
No alternate cover images currently exist for this novel.