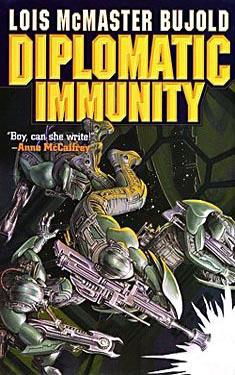 Synopsis
A COMEDY OF TERRORS from the inimitable award-winning Lois McMaster Bujold!
A rich Komarran merchant fleet has been impounded at Graf Station in distant Quaddiespace, after a bloody incident on the station docks involving a security officer from the convoy's Barrayaran military escort. Just the sort of situation that calls for the attention of the Imperial Auditors, Barrayar's special, high-level trouble-shooters.
As luck would have it, Lord Miles Vorkosigan, the empire's youngest Auditor, just happens to be in the area. Of course, he and his wife, Lady Ekaterin, have other things on their minds, such as getting home in time to attend the long awaited births of their first children. But when duty calls -- in the voice of Barrayar's Emperor, Gregor -- Miles has no choice but to answer. Waiting on Graf Station are diplomatic snarls, tangled loyalties, old friends, new enemies, racial tension, lies and deceptions, mysterious disappearances, and a lethal secret with wider consequences than even Miles anticipates. The entire system is in danger and time is running out.
Miles Vorkosigan is uncomfortably aware that the downside of being a trouble-shooter comes when the trouble starts shooting back...
Excerpt
No excerpt currently exists for this novel.
Reviews
Images
No alternate cover images currently exist for this novel.