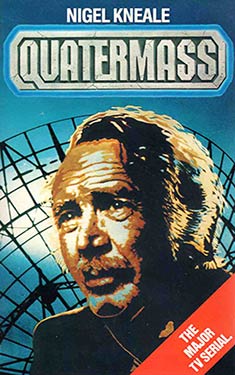 Synopsis
Quatermass, now living in retirement, travels to London to find his missing granddaughter, which leads him on a chase through the blighted urban decay of London. Two spacecraft are destroyed by an unknown force. Quatermass belives his grandaughter is involved with the "Planet People" a group of neo-hippies who travel to neolithic sites, who are in search of an off world paradise. Quatermass follows this group to a stone circle megalith where they vanish in a burst of white light.
The Planet People's leader feels they have been transported off-planet, but Quatermass believes they have been reduced to the dust he found on site. A survivor is found and Quatermass takes her to London. Thousands of young people have disappeared in similar incidents all over the world. Quatermass believes there is a connection between the disappearances and a decline in society. He and his party are attacked in London. A large number of Planet People converge on a radio telescope. The lightening strikes Kapp's home and his family is gone.
Quatemass is rescued. In Hospital, the survivor levitates off her bed and explodes in a shower of dust. More and more people are drawn to the megalithic sites. Quatermass theorises that this has happened before at these sites, which are markers for an alien force. The Americans and Russians send a space shuttle into orbit to contact the spherical force around Earth. Quatermass believes the force is a machine constructed to harvest Human protein. Tens of thousands gather at Wembly Stadium where the lightening strikes.
Quatermass emerges from the underground car-park to an empty Wembly Stadium. He then travels to Moscow where he assembles a team of older people (who are immune to the effects of the alien force) to find a solution. Quatermass sets a trap with a nuclear weapon. When the Planet People gather in suffcient quantity, Quatermass detonates the devise to send a message to the harvesters: do not come back. Which, later on, seems to have worked.
Excerpt
No excerpt currently exists for this novel. Be the first to submit one!

Submit an Excerpt
Reviews
There are currently no reviews for this novel. Be the first to submit one! You must be logged in to submit a review in the BookTrackr section above.
Images
No alternate cover images currently exist for this novel. Be the first to submit one!