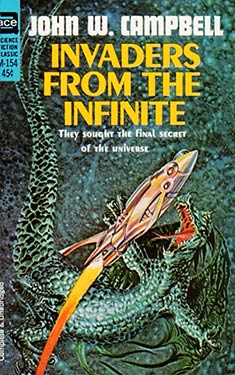 Invaders from the Infinite
Synopsis
The alien spaceship was unthinkably huge, enormously powerful, apparently irresistible. It came from the void and settled on Earth, striking awe into the hearts of all who saw it. Its mission, however, was not conquest -- but a call for help!
First contact was a job for the brilliant team of scientists, Arcot, Wade, and Morey. And what they received was an offer of an alliance against an invading foe so powerful that no known force could turn it back!
John W. Campbell's INVADERS FROM THE INFINITE is a veritable odyssey of the universe, exploring world after world and uncovering cosmic secret after cosmic secret. Here is a classic space opera that may never be surpassed!
Excerpt
"...rounded skull. The ears were large, pointed tips at the top. Their hair was a silky mane that extended low over the forehead, and ran back, spreading above the ears, and down the neck. Then, as that emotion of surprise and astonishment weakened his will momentarily, oblivion came, with what seemed a fleeting instant of memories. His life seemed to flash before his mind in serried rank, a file of events, his childhood, his life, his marriage, his wife, an image of smiling comfort, then the years, images of great and near great men, his knowledge of history, pictures of great war of 2074, pictures of the attackers of the..."
Copyright © 1961 by John W. Campbell, Jr.
Reviews
Images
No alternate cover images currently exist for this novel.