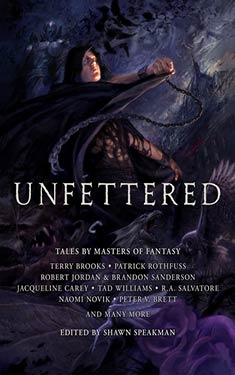 Unfettered: Tales by Masters of Fantasy
Synopsis
Unfettered is an anthology of original fantasy fiction by some of the very biggest names in fantasy fiction, and it also features deleted scenes from A MEMORY OF LIGHT, the final book in Robert Jordan's Wheel of Time series.
This collection is not only a fantastic anthology in its own right, but it's a testament to the generosity found in the science fiction and fantasy community. When author Shawn Speakman fell seriously ill and was unable to pay his medical bills, that's when New York Times bestselling author Terry Brooks offered to donate a short story that Shawn could sell to help alleviate those bills. He also suggested he ask the same of his other writer friends, and Unfettered is the incredible result.
Twenty-four tales comprise this superb collection, and as the title suggests, the writers were free to contribute whatever they wished.
Table of Contents:
Foreword - essay by Patrick Rothfuss
Introduction: On Becoming Unfettered - essay by Shawn Speakman
Imaginary Friends - (1991) - novelette by Terry Brooks
How Old Holly Came To Be [Kingkiller Chronicles] - shortstory by Patrick Rothfuss
The Old Scale Game - shortstory by Tad Williams
Game of Chance - (2013) - shortfiction by Carrie Vaughn
The Martyr of the Roses [Kushiel's Legacy] - shortstory by Jacqueline Carey
Mudboy [Demon Cycle] - shortstory by Peter V. Brett
The Sound of Broken Absolutes [The Vault of Heaven] - novella by Peter Orullian
The Coach With Big Teeth - shortstory by R. A. Salvatore
Keeper of Memory - novelette by Todd Lockwood
Heaven in a Wild Flower - novelette by Blake Charlton
Dogs - novelette by Daniel Abraham
The Chapel Perilous [The Iron Druid Chronicles] - novelette by Kevin Hearne
Select Mode [The Broken Empire] - shortstory by Mark Lawrence
All the Girls Love Michael Stein - shortstory by David Anthony Durham
Strange Rain - shortstory by Jennifer Bosworth
Nocturne - novelette by Robert V. S. Redick
Unbowed [Legend of Asahiel] - novelette by Eldon Thompson
In Favour With Their Stars [Temeraire] - shortstory by Naomi Novik
River of Souls [The Wheel of Time] - shortstory by Robert Jordan and Brandon Sanderson
The Jester [Riyria] - novelette by Michael J. Sullivan
The Duel [Fillory] - shortstory by Lev Grossman
Walker and the Shade of Allanon [Shannara] - shortstory by Terry Brooks
The Unfettered Knight [The Annwn Cycle] - novelette by Shawn Speakman
Excerpt
No excerpt currently exists for this novel. Be the first to submit one!

Submit an Excerpt
Reviews
There are currently no reviews for this novel. Be the first to submit one! You must be logged in to submit a review in the BookTrackr section above.
Images
No alternate cover images currently exist for this novel. Be the first to submit one!