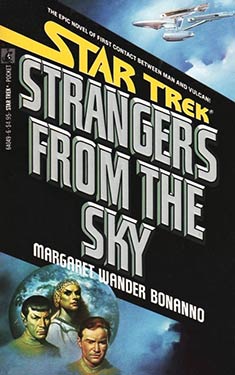 Synopsis
In the twenty-first century: Years before the formal first contact that would be recorded in Earth's history, a Vulcan space vessel crash-lands in the South Pacific, forcing humanity to decide whether to offer the hand of friendship, or the fist of war. Complicating matters is a second visitation: a group of people from two hundred years in the future, who serve on a starship called Enterprise.
In the twenty-third century: A new novel called Strangers from the Sky reveals the truth about this heretofore unknown first contact. Reading the novel leads to nightmares that torment Admiral James T. Kirk -- dreams of his dead comrades, Gary Mitchell, Lee Kelso, and Elizabeth Dehner, from his earliest days aboard the U.S.S. Enterprise; visions of a forgotten past in which he somehow changed the course of history and destroyed the Federation before it began.
Excerpt
No excerpt currently exists for this novel.
Reviews
Images
No alternate cover images currently exist for this novel.