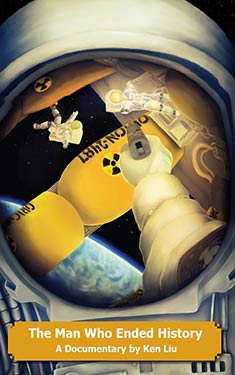 The Man Who Ended History: A Documentary
Synopsis
Hugo-, Nebula-, and Sturgeon-nominated Novella
Unit 731, a Japanese-run biological and chemical warfare research facility in Pingfang district of Heilongjiang's provincial capital Harbin, where war crimes were carried out against Chinese citizens during the War of Resistance against Japanese Aggression (1937-45).
Liu's story imagines a world in which a Chinese-American scientist and his Japanese wife (also a scientist) have devised a time machine, allowing the family members of Unit 731 victims to witness the crimes in person. The catch is that the trip can only be made once for any time period in question.
"The story is inspired by the experiences of Iris Chang, who, as a result of her efforts to bring attention to the Rape of Nanking, roused fierce opposition from denialists," Liu says. "More than just discussing the atrocities, the story is also about memory, the limits of historiography, our collective responsibility to history, the hold of the past on the present, the ways that contemporary politics affect historical interpretation and the duty owed by all of us to the victims of past atrocities and their descendants."
The story patches together the imaginary accounts of those who have made the trip with the responses of academics, average citizens and critics on both sides of the issue in Japan and China. Although the piece comes down heavily on the side of the Chinese, those medical personnel who participated in the experiments are also given an opportunity to justify their behavior in the name of science.
In one passage, a character writes: "Every time we tell a story about a great atrocity, like the Holocaust or Pingfang, the forces of denial are always ready to pounce, to erase, to silence, to forget. One has to be careful, whenever one tells a story about a great injustice. We are a species that loves narrative, but we also have been taught not to trust an individual speaker.
"Yes, it is true that no nation, and no historian, can tell a story that completely encompasses every aspect of the truth. But it is not true that just because all narratives are constructed, that they are equally far from the truth ... There are some narratives that are closer to the truth than others."
Liu also notes that Japan has actually publicly apologized on several occasions for war crimes committed against the Chinese, if only in vague terms.
-- Kelly Chung Dawson, China Daily USA

Read this story online for free at the author's website (PDF).
Excerpt
No excerpt currently exists for this novel. Be the first to submit one!

Submit an Excerpt
Reviews
There are currently no reviews for this novel. Be the first to submit one! You must be logged in to submit a review in the BookTrackr section above.
Images
No alternate cover images currently exist for this novel. Be the first to submit one!