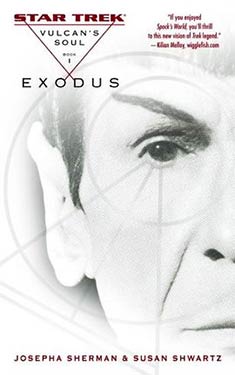 Synopsis
Ambassador Spock has married his fellow Vulcan Starfleet officer, Captain Saavik, but he and his wife have little time to enjoy their newlywed status before both of them are plunged into the heart of a clandestine war. Pursuing his hope of uniting Vulcan and Romulus after centuries of hostility between them, Spock finds himself inadvertently drawn into conflict with a long-lost race -- also of Vulcan descent -- who are set on the destruction of the weakened Romulan Empire. Together with the surviving members of Captain James T. Kirk's old crew, Spock and Saavik are forced to abandon the aegis of the Federation and wage their own secret war behind the scenes. And even as their relationship deepens, their future is threatened as Spock's dream of peace leads him into deadly danger...
One year after the end of the Dominion War, the Romulan Star Empire comes under attack by a mysterious and alarmingly powerful enemy calling itself the Watraii, a species with a long-standing vendetta against the Romulans. Yet though they remain tenuously allied, the Federation, the Romulans, and the Klingons are unready to become embroiled in another sustained conflict, forcing Ambassador Spock, Admiral Uhura, Admiral Chekov, Captain Saavik, and some unexpected allies to defy their governments in order to meet the new threat head-on. But the first blood drawn may prove to be among the dearest of all.
Unknown to the defenders, the secret behind the Watraii's attack is buried in Vulcan's violent ancient past, during the time of Surak himself, when the proto-Romulans -- staunch opponents of Surak's reforms -- were compelled to take their chances among the cold and distant stars. Now Spock must begin the first leg of a long and dangerous road to learn the truth... before his hopes for the future become ashes.
Excerpt
No excerpt currently exists for this novel.
Reviews
There are currently no reviews for this novel. Be the first to submit one! You must be logged in to submit a review in the BookTrackr section above.
Images
No alternate cover images currently exist for this novel.