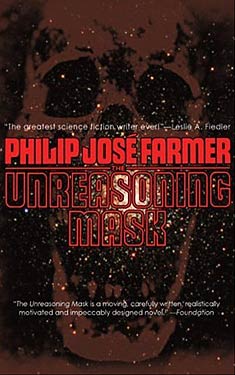 Synopsis
Philip José Farmer, the wildly creative author of the bestselling Riverworld series, here delights his wide readership with a compelling new novel. All the skills and the soaring imagination which have won Farmer over a million dedicated fans are abundant in this highly charged, far-future, space adventure story.
The Unreasoning Mask is the story of Ramstan, captain of al-Buraq, a rare model starship. It is capable of alaraf drive: instantaneous travel between two points of space. Three of these special ships were built to explore and make contact with the many sentient races inhabiting the universe. Suddenly, one of the ships mysteriously disappears. And then it is discovered that an unidentifiable "creature" is marauding through the universe, totally annihilating intelligent life on planet after planet.
Ranstan, a thoughtful and moral man, becomes a fascinated yet reluctant pawn in the hands of the strange forces which arise to fight the deadly destroyer. Ultimately, he is the one man who, in a fearful race against time, can stop the destruction. But what price must he pay for becoming the savior of intelligent-kind?
The Unreasoning Mask is Farmer at his best--fast-paced, complex, slightly mystical, high-action adventure.
Excerpt
No excerpt currently exists for this novel. Be the first to submit one!

Submit an Excerpt
Reviews
Images
No alternate cover images currently exist for this novel. Be the first to submit one!