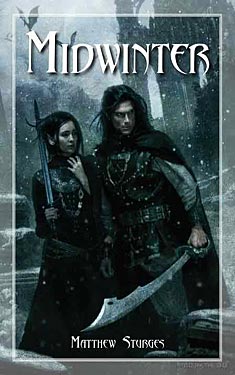 Synopsis
Winter only comes to the land once in a hundred years. But the snow covers ancient secrets: secrets that could topple a kingdom.
Mauritaine was a war hero, a Captain in the Seelie Army. Then he was accused of treason and sentenced to life without parole at Crere Sulace, a dark and ancient prison in the mountains, far from the City Emerald. But now the Seelie Queen--Regina Titania herself--has offered him one last chance to redeem himself, an opportunity to regain his freedom and his honor.
Unfortunately, it's a suicide mission, which is why only Mauritaine and the few prisoners he trusts enough to accompany him, would even dare attempt it. Raieve, beautiful and harsh, an emissary from a foreign land caught in the wrong place at the wrong time. Perrin Alt, Lord Silverdun, a nobleman imprisoned as a result of political intrigues so Byzantine that not even he understands them. Brian Satterly, a human physicist, apprehended searching for the human victims of the faery changeling trade.
Meanwhile, dark forces are at work at home and abroad. In the Seelie kingdom, the reluctant soldier Purane-Es burns with hatred for Mauritaine, and plots to steal from him the one thing that remains to him: his wife. Across the border, the black artist Hy Pezho courts the whim of Mab, offering a deadly weapon that could allow the Unseelie in their flying cities to crush Titania and her army once and for all.
With time running out, Mauritaine and his companions must cross the deadly Contested Lands filled with dire magical fallout from wars past. They will confront mounted patrols, brigands, and a traitor in their midst. And before they reach their destination, as the Unseelie Armies led by Queen Mab approach the border, Mauritaine must decide between his own freedom and the fate of the very land that has forsaken him.
Excerpt
Part One
Winter comes to the land only once in a hundred years.
When it comes, the always-blossoming cherry trees close their petals and turn away from the chill wind. The animals of the forest come down from their trees and rocks and burrow deep into the ground for warmth. The Channel Sea grows angry and gray. The sun shines less brightly, hiding its face behind clouds rough as granite. When the River Ebe freezes over and a man can walk from Colthorn to Miday over the ice, then Midwinter has officially begun.
Midwinter is the darkest season. It is a time of repentance and of somber reflection during which even the Queen will wear black. In the mountain temples of the Arcadians, the icons are covered with dark cloth and the ancient censers are unwrapped and burned; they swing dangling from the fingers of silent monks who walk the frigid stone floors of their temples barefoot. Around lakeside villages and in certain city shops where gaiety is the order of business, signs are hung reading simply, "Closed for Midwinter."
There is a rumor in the court of the City Emerald that during Midwinter even Regina Titania's powers ebb, that the Queen herself becomes pale and cold to the touch. But this is only a rumor, and a treasonous one at that.
It lasts until the ice cracks and the first new fish is caught in the Ebe. The lucky fisherman who catches it becomes Lord of Colthorn for the day, and so for months before they have any chance of succeeding, the peasantry bring their poles and lines to the water's edge, waiting for Firstcome to return.
Firstcome is the time of rebirth. Every city in the land, from the tiniest hamlet to the City Emerald herself, has its own centuries-old tradition for celebrating the coming of the new summer and the greens and yellows and blues that accompany it.
But until then, the trees will wear a wreath of white around their heads and the hills will be capped with reflective ice. From the farthest north expanse of the land, the snow will creep southward, stirring hurricanes in the Emerald Bay to lash at the city folk. Even the desert gnomes will feel a chill in their mud homes in the far south, but the snow will melt over the swamplands and its inhabitants will suffer a year or more of icy rain before Firstcome rescues them. Italic
Until then, it is Midwinter.
the prison of crere sulace and certain of its inhabitants
Dumesne, huge and crazy, took a step toward Raieve and flashed his ugly teeth. He showed her the blade of a thin knife in his belt and smiled at her.
Raieve spared a glance for the Low Guard of Watch and found him nowhere in evidence. She planted her foot and stood firm in the freezing narrow courtyard that separated the towers of Crere Sulace, facing Dumesne. A new fall of snow twisted in the windy courtyard, settling on clothing and hair and dusting the courtyard walls with white. Many of the assembled prisoners, in their ragged furs and cheap boots, clapped their bare hands against the cold and urged Dumesne on. Some of the others, the pretty folk, hung back and watched with feigned disinterest from afar. Mauritane, the strong quiet one, stared directly at her. She felt his eyes watching her movements, appraising her.
Raieve glared at her attacker. "See these?" she said, pulling three of her braids from the left side of her head and holding them before her. "I earned each one of them facing an armed opponent with my bare hands."
Dumesne ran his gloved fingers over his recently shaved head, the tips of his ears rising just above the top of his skull. "I once had more braids than you could count, foreigner. Don't make me cut your tongue out before I kill you."
Raieve whirled her metal-tipped braids like whipcords and flashed them out. One of them caught Dumesne in the eye and he staggered back, clutching his face. He went for the knife then, but it was already gone. When he managed both eyes open again, she was holding it in his face.
There was courteous applause from the pretty section. From the corner of her eye, she watched some of them pass coins back and forth. They were betting on her. Mauritane, though, did not move.
"You fight like a woman," said Dumesne, sneering.
Raieve planted the knife in his thigh and dragged it out at an angle. Dumesne pinwheeled backward and she advanced on him. "Where I come from," she said, "there is no higher compliment." She swept with her left leg, and Dumesne fell to the ground, clutching his wound. "Must I kill you now," shouted Raieve over the yells of the crowd, "or do I have your oath of respect?"
"I would rather be dead than swear oath to a woman and a foreigner."
"That is your option," she said. She raised the knife.
"Halt!" came a voice from the side. Mauritane rose and approached them. Raieve held the knife still, waiting.
"This is no concern of yours," said Raieve.
Mauritane approached her and took the knife from her hand. He made her feel like a child; it never occurred to her to defend against him.
"I don't need rescuing from you, Captain," Dumesne sneered the title.
"Give me your oath," said Mauritane, "and you can suffer your humiliation and live. Otherwise, I'll leave the two of you to your business." He glared at Dumesne.
Dumesne looked back and forth between them. He hung his head. "I swear it. By oak and thorn I swear it. No harm will come to the woman by my hand."
"Wise choice," said Mauritane. He helped Dumesne to his feet. "Go," he said, "or I'll fillet you myself." He handed Dumesne the knife, handle first.
"You made me look small," Raieve said, once Mauritane had led her back to the fire. The crowd was dispersing, and the ragged onlookers gave Mauritane a wide berth.
"No, I saved your life," Mauritane answered. "Dumesne has blood oaths sworn with twenty other inmates. Any of them would be honor bound to kill you if you'd slain him."
"I would face them all," said Raieve, her pride making her face glow red.
"No doubt," said Mauritane, sweeping his braids back from his face as he leaned over the fire. "But that would be a poor strategy for survi
val here. You're new. You need to learn patience."
"Why did he call you Captain?" asked Raieve after a brief pause. "Are you an officer of the Unseelie Army?"
"No," said Mauritane.
"What then?"
"The honorific no longer applies to me, so it doesn't matter. You may call me Mauritane, if you wish."
He was quiet then. He pulled out a pipe and lit it, squinting at the sky. Raieve looked up as well but saw only gray. Around the cornice of the East Tower, a few crows flitted through the swirling snowflakes.
She looked at Mauritane, and he allowed her the look, studying the contents of his pipe. He was not young, but far from old. The thin creases in his face stood out, ruddy in the freezing air. His braids were long and precise, done in the military style of the Kingdom, unlike Raieve's, which she'd tied herself without the aid of a mirror, standing over the men she'd killed to earn them. Built compactly, Mauritane was only a finger taller than she, but he carried himself the way a taller man stands, and his shoulders were wide and strong.
"Do I meet with your approval?" Mauritane asked, not looking at her.
She scowled and turned away, breathing a curse only when she knew he could not hear it.
Copyright © 2009 by Matthew Sturges
Reviews
There are currently no reviews for this novel. Be the first to submit one! You must be logged in to submit a review in the BookTrackr section above.
Images
No alternate cover images currently exist for this novel.