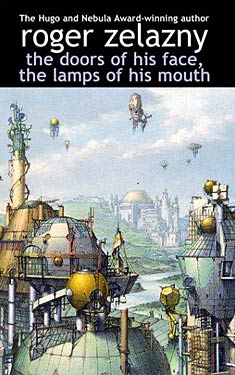 The Doors of His Face, The Lamps of His Mouth (collection)
Synopsis
Here are strange, beautiful stories covering the full spectrum of the late Roger Zelazny's remarkable talents. In Doors of His Face, The Lamp of His Mouth, Zelazny's rare ability to mix the dream-like, disturbing imagery of fantasy with the real-life hardware of science fiction is on full display. His vivid imagination and fine prose made him one of the most highly acclaimed writers in his field.
Table of Contents
Stories in the original edition:
"The Doors of His Face, The Lamps of His Mouth", winner of the 1965 Nebula Award for Best Novelette
"The Monster and the Maiden"
"Collector's Fever"
"The Great Slow Kings"
"A Museum Piece"
"Corrida"
"Love Is An Imaginary Number"
"The Man Who Loved the Faioli"
"Lucifer"
Stories added in later editions:
"The Furies"
"The Graveyard Heart"
Excerpt
No excerpt currently exists for this novel.
Reviews
Images