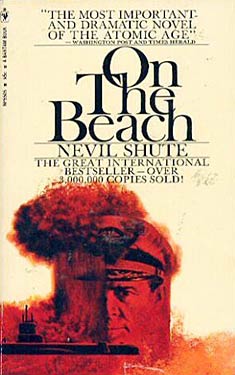 Film & Television Adaptations
Synopsis
Nevil Shute's most powerful novel-a bestseller for decades after its 1957 publication-is an unforgettable vision of a post-apocalyptic world.
After a nuclear World War III has destroyed most of the globe, the few remaining survivors in southern Australia await the radioactive cloud that is heading their way and bringing certain death to everyone in its path. Among them is an American submarine captain struggling to resist the knowledge that his wife and children in the United States must be dead. Then a faint Morse code signal is picked up, transmitting from somewhere near Seattle, and Captain Towers must lead his submarine crew on a bleak tour of the ruined world in a desperate search for signs of life.
Both terrifying and intensely moving, On the Beach is a remarkably convincing portrait of how ordinary people might face the most unimaginable nightmare.
Excerpt
CHAPTER ONE
Lieutenant-Commander Peter Holmes of the Royal Australian Navy woke soon after dawn. He lay drowsily for a while, lulled by the warm comfort of Mary sleeping beside him, watching the first light of the Australian sun upon the cretonne curtains of their room. He knew from the sun's rays that it was about five o'clock: very soon the light would wake his baby daughter Jennifer in her cot, and then they would have to get up and start doing things. No need to start before that happened; he could lie a little longer.
He woke happy, and it was some time before his conscious senses realised and pinned down the origin of this happiness. It was not Christmas, because that was over. He had illuminated the little fir tree in their garden with a string of coloured lights with a long lead to the plug beside the fireplace in the lounge, a small replica of the great illuminated tree a mile away outside the Town Hall of Falmouth. They had had a barbecue in the garden on the evening of Christmas Day, with a few friends. Christmas was over, and this-his mind turned over slowly-this must be Thursday the 27th. As he lay in bed the sunburn on his back was still a little sore from their day on the beach yesterday, and from sailing in the race.. He would do well to keep his shirt on today. And then, as consciousness came fully to him, he realised that of course he would keep his shirt on today. He had a date at eleven o'clock in the Second Naval Member's office, in the Navy Department up in Melbourne. It meant a new appointment, his first work for five months. It could even mean a seagoing job if he were very lucky, and he ached for a ship again.
It meant work, anyway. The thought of it had made him happy when he went to sleep, and his happiness had lasted through the night. He had had no appointment since he had been promoted lieutenant-commander in August and in the circumstances of the time he had almost given up hope of ever working again. The Navy Department, however, had maintained him on full pay throughout these months, and he was grateful to them.
The baby stirred, and started chuntering and making little whimpering noises. The naval officer reached out and turned the switch of the electric kettle on the tray of tea things and baby food beside the bed, and Mary stirred beside him. She asked the time, and he told her. Then he kissed her, and said, "It's a lovely morning again."
She sat up, brushing back her hair. "I got so burned yesterday. I put some calamine stuff on Jennifer last night, but I really don't think she ought to go down to the beach again today." Then she, too, recollected. "Oh Peter, it's today you're going up to Melbourne, isn't it ?"
He nodded. "I should stay at home, have a day in the shade."
"I think I will."
He got up and went to the bathroom. When he came back Mary was up, too; the baby was sitting on her pot and Mary was drawing a comb through her hair before the glass. He sat down on the edge of the bed in a horizontal beam of sunlight, and made the tea.
She said, "It's going to be very hot in Melbourne today, Peter. I thought we might go down to the club about four, and you join us there for a swim. I could take the trailer and your bathers."
They had a small car in the garage, but since the short war had ended a year previously it remained unused. However, Peter Holmes was an ingenious man and good with tools, and he had contrived a tolerable substitute. Both Mary and he had bicycles. He had built a small two-wheeled trailer using the front wheels of two motor bicycles, and he had contrived a trailer hitch on both Mary's bicycle and his own so that either could pull this thing, which served them as a perambulator and a general goods carrier. Their chief trouble was the long hill up from Falmouth.
He nodded. "That's not a bad idea. I'll take my bike and leave it at the station."
"What train have you got to catch ?"
"The nine-five." He sipped his tea and glanced at his watch. "I'll go and get the milk as soon as I've drunk this."
He put on a pair of shorts and a singlet and went out. He lived in the ground floor flat of an old house upon the hill above the town that had been divided into apartments; he had the garage and a good part of the garden in his share of the property. There was a verandah, and here he kept the bicycles and the trailer. It would have been logical to park the car under the trees and use the garage, but he could not bring himself to do that. The little Morris was the first car he had ever owned, and he had courted Mary in it. They had been married in 1961 six months before the war, before he sailed in H.M.A.S. Anzac for what they thought would be indefinite separation. The short, bewildering war had followed, the war of which no history had been written or ever would be written now, that had flared all round the northern hemisphere and had died away with the last seismic record of explosion on the thirty-seventh day. At the end of the third month he had returned to Williamstown in Anzac on the last of her fuel oil while the statesmen of the southern hemisphere gathered in conference at Wellington in New Zealand to compare notes and assess the new conditions; had returned to Falmouth to his Mary and his Morris Minor car. The car had three gallons in the tank; he used that unheeding, and another five that he bought at a pump, before it dawned upon Australians that all oil came from the northern hemisphere.
He pulled the trailer and his bicycle down from the verandah on to the lawn and fitted the trailer hitch; then he mounted and rode off. He had four miles to go to fetch the milk and cream, for the transport shortage now prevented all collections from the farms in his district and they had learned to make their own butter in the Mixmaster. He rode off down the road in the warm morning sunlight, the empty billies rattling in the trailer at his back, happy in the thought of work before him.
There was very little traffic on the road. He passed one vehicle that once had been a car, the engine removed and the windscreen knocked out, drawn by an Angus bullock. He passed two riders upon horses, going carefully upon the gravel verge to the road beside the bitumen surface. He did not want one; they were scarce and delicate creatures that changed hands for a thousand pounds or more, but he had sometimes thought about a bullock for Mary. He could convert the Morris easily enough, though it would break his heart to do so.
He reached the farm in half an hour, and went straight to the milking shed. He knew the farmer well, a slow speaking, tall, lean man who walked with a limp from the Second World War. He found him in the separator room, where the milk flowed into one churn and the cream into another in a low murmur of sound from the electric motor that drove the machine. "Morning, Mr. Paul," said the naval officer. "How are you today?"
"Good, Mr. Holmes." The farmer took the milk billy from him and filled it at the vat. "Everything all right with you?"
"Fine. I've got to go up to Melbourne, to the Navy Department. I think they've got a job for me at last."
"Ah," said the farmer, "that'll be good. Kind of wearisome, waiting around, I'd say."
Peter nodded. "It's going to complicate things a bit if it's a seagoing job. Mary'll be coming for the milk, though, twice a week. She'll bring the money, just the same."
The farmer said, "You don't have to worry about the money till you come back, anyway. I've got more milk than the pigs will take even now, dry as it is. Put twenty gallons in the creek last night-can't get it away. Suppose I ought to raise more pigs, but then it doesn't seem worth while. It's hard to say what to do ..." He stood in silence for a minute, and then he said, "Going to be kind of awkward for the wife, coming over here. What's she going to do with Jennifer?"
"She'll probably bring her over with her, in the trailer."
"Kind of awkward for her, that." The farmer walked to the alley of the milking shed and stood in the warm sunlight, looking the bicycle and trailer over. "That's a good trailer," he said. "As good a little trailer as I ever saw. Made it yourself, didn't you ?"
"That's right."
"Where did you get the wheels, if I may ask?"
"They're motor bike wheels. I got them in Elizabeth Street."
"Think you could get a pair for me ?"
"I could try," Peter said. "I think there may be some of them about still. They're better than the little wheels they tow more easily." The farmer nodded. "They may be a bit scarce now. People seem to be hanging on to motor bikes."
"I was saying to the wife," the farmer remarked slowly, "if I had a little trailer like that I could make it like a chair for her, put on behind the push bike and take her into Falmouth, shopping. It's mighty lonely for a woman in a place like this, these days," he explained. "Not like it was before the war, when she could take the car and get into town in twenty minutes. The bullock cart takes three and a half hours, and three and a half hours back; that's seven hours for traveling alone. She did try to learn to ride a bike but she'll never make a go of it, not at her age and another baby on the way. I wouldn't want her to try. But if I had a little trailer like you've got I could take her into Falmouth twice a week, and take the milk and cream along to Mrs. Holmes at the same time." He paused. "I'd like to be able to do that for the wife," he remarked. "After all, from what they say on the wireless, there's not so long to go."
The naval officer nodded. "I'll scout around a bit today and see what I can find. You don't mind what they cost ?"
The farmer shook his head. "So long as they're good wheels, to give no trouble. Good tyres, that's the main thing-last the time out. Like those you've got."
The officer nodded. "I'll have a look for some today."
"Taking you a good bit out of your way."
"I can slip up there by tram. It won't be any trouble. Thank God for the brown coal."
The farmer turned to where...
Copyright © 1957 by Nevil Shute
Reviews
Images
No alternate cover images currently exist for this novel.