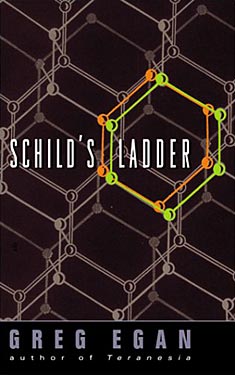 Synopsis
The Age of Death ended countless millennia ago. No longer burdened by limited lifespans, the immortal humans who populate inhabited space now have the luxury to travel vast distances effortlessly and to tinker with the intricate mechanics of spacetime. But one such experiment in quantum physics has had a catastrophic and unanticipated result, creating an enormous, rapidly expanding vacuum -- a region of new physics -- with the frightening potential to devour countless inhabited solar systems.
Tchicaya abandoned his homeworld four thousand years ago to travel the universe, freely choosing, as have others of his bent, to endure the hardships of distance and loneliness for the sake of knowledge and experience. Aboard the Rindler, a starship trawling the border of the allconsuming novo-vacuum, he feels his endless life has new purpose. For the Rindler is the center for the scientific study the phenomenon -- a common ground for Preservationists and Yielders alike, those working to halt and destroy the encroaching worlds-eater ... and those determinedto investigate its marvels while allowing its growth to continue unchecked. Tchicaya has allied himself firmly with the latter camp.
The passing decades -- and inevitable expansion of the void -- widen the great rift between the two factions, intensifying what was once simply ideological differences into something more angry, explosive, and dangerous. And the arrival of Tchicaya's fiery first love, Mariama, and her immediate embracing of the Preservationist cause, intensifies an inner turmoil he has been struggling with since his distant childhood.
But everything onboard the Rindler -- and, ultimately, in the inhabited universe itself-is on the cusp of further cataclysmic change, as the Yielders' explorations threaten to transform discord into violent action and potential xenocide. For new evidence suggests that something unthinkable is developing at an astounding rate deep within the mysterious, 600-light-years-wide void -- something neither Tchicaya and his compatriots nor Mariama and hers could ever have imagined possible: life.
Excerpt
No excerpt currently exists for this novel.
Reviews
Images
No alternate cover images currently exist for this novel.