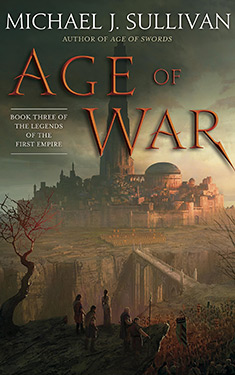 Synopsis
The alliance of humans and renegade Fhrey is fragile -- and about to be tested as never before. Persephone keeps the human clans from turning on one another through her iron will and a compassionate heart. The arrogant Fhrey are barely held in check by their leader, Nyphron, who seeks to advance his own nefarious agenda through a loveless marriage that will result in the betrayal of the person Persephone loves most: Raithe, the God Killer.
As the Fhrey overlords marshal their army and sorcerers to crush the rebellion, old loyalties will be challenged while fresh conspiracies will threaten to undo all that Persephone has accomplished. In the darkest hour, when hope is all but lost, new heroes will rise... but at what terrible cost?
Excerpt
Raithe pulled Persephone up the last ledge. She could have climbed on her own, and none of the other chieftains had needed, or had been offered a hand, but she took it. Persephone felt it best to be agreeable when she had the luxury, knowing she couldn't always be so generous. That's what she told herself, but knew if anyone else had offered a hand, she'd have waved them off. Raithe was different. Rugged-handsome and wearing his leigh mor with such casual indifference, he was a popular topic among the women, but he was too young for her. Persephone was also still married to her dead husband in ways she couldn't put into words, or even thoughts; emotions had a language of their own that didn't always translate. The young Dureyan and Reglan were nothing alike. Her dead husband had been more like a father, a teacher, a guide. With Raithe she was the teacher, the wise one, the steady hand that kept the rows straight. And yet, Raithe's hand felt good--safe, warm, strong. She was keenig, chieftain of the ten clans, supreme ruler of millions, but she still needed that. Power couldn't replace respect, devotion couldn't replace friendship, and nothing could replace the enveloping warmth of love. He loved her, wanted her, and while she couldn't grant his wish--at least not yet--she cherished the idea. The gift of his desire was another of those impossible to translate, hard to corral feelings. Passion was a wild selfish thing that didn't respect boundaries or common sense, but without it life felt pointless.
"What did you call this?" She reached the top and walked around, getting a feel for the escarpment, a natural pillar of rock rising sixty feet above the ground.
"Misery Rock," Raithe replied.
Feeling a flutter in her stomach produced by the sheer drop on all sides of the not so large rock, she nodded. "I can see that. Sure."
Persephone walked in a tight circle. She dragged her feet too scared to lift them. An irrational fear as long as she didn't do anything crazy.
Maybe I should just not look down? Oh, right--and while I'm wishing, how about the war being over, and we won.
The rock was as flat as a table, but she didn't trust herself. Stumbling is not an option, unless flying is too. Persephone was never happy with heights. As a child she stopped climbing trees at a young age, and begged off efforts to thatch her family's roof, claiming illness which wasn't entirely false. Standing on Misery Rock, looking down and seeing the tops of all those walnut-sized heads that made up the Rhulyn clans, she felt dizzy and wondered how she ever found the courage to jump off the waterfall in the Crescent Forest.
Wolves, she recalled. Yes, a pack of wolves can do that.
Persephone then watched in awe as Suri scampered up behind her as if the precipice was foot off the ground. The young woman was beyond fearless, she appeared thoroughly bored.
"Did you live around here?" she asked Raithe.
He pointed to the northeast.
From where they stood, Persephone could see for miles. Most of Dureya was a dusty plateau, one great rock interrupted by jagged stone formations like the one they stood on. Looking northeast she spotted a black mark on the consistently blond plain.
"That was Clemton," Raithe said. "A village of twenty-seven buildings, twelve families, and fifty-eight people." He continued to stare without blinking, a hard brutal look. She wondered what he was thinking, then imagined herself gazing on the ruins of Dahl Rhen.
Persephone put a hand on his arm. Her touch broke his stare, and he offered her a forced smile.
All the Rhulyn chieftains were with her on that miserable crag, while the Gula leaders were with their men, strategically stationed among the dips and clefts of the Dureya plain. Nyphron had positioned them the night before, saying he knew the places where the previously believed, all-seeing tower of Alon Rhist, was supposedly blind. Persephone had been forced to repeat his instructions. The Gula refused to take orders from the Fhrey. A wild and vicious people, the Gula were little more than a pack of rabid animals--great when you needed that sort of thing, maddening when you didn't.
"They're at the stairs," Chief Tegan announced. The chief of Clan Warric looked like an over-grown dwarf with neat dark hair and brushed beard. Possessed of a sarcastic wit and predisposed to arrogance, he also had a sharp mind, and had become one of Persephone's closest advisors. Tegan pointed and everyone on Misery Rock looked west toward Grandford.
The great stone bridge that spanned the Bern River was marvelous to behold. The span, a glorious arc of sculptured stone with four massive pillars, arched over the narrow gorge. Persephone had twice crossed that bridge. Both times had terrified her. The roar of the falls, the spray in her face, and those intimidating gates of Alon Rhist awaiting her--if not for holding her husband's hand, she didn't think she could have managed.
We had been invited and I was scared.
"I can't believe you allowed this." Raithe was shaking his head dramatically while looking at the sky.
"Nyphron knows what he's doing," Persephone said, trying to sound more confident than she felt. Her hands were clenched tight. She forced them open, and made a deliberate effort to relax her shoulders.
"What if he's wrong? What if they kill him?" Raithe asked.
"My people aren't prepared for this," Harkon said. "Most of clan Menahan are carrying farm tools. We can't fight. We'll be barley before the scythe."
"It might have been better to wait until--" Raithe began.
Persephone didn't want to hear it all again. She held up her hands. "Nyphron explained all that. Would any of you prefer to storm that ford? Fight across the bridge? Scale those walls? Ram that bronze gate?"
"There's just no fall back, if it doesn't work."
"I don't think Nyphron or his Galantians understand fall back," Tegan said. "They always assume they will win."
"Let's hope there's good reason for that." Persephone straightened up. She kept reminding herself to stand tall. Her mother had always complained about her bad posture. No one will respect the wife of a chieftain who hunches like a troll. Her mother could never have imagined that she would be chieftain, much less keenig, but guessed the advice was still good.
"There's a first time for everything," Krugen said.
"Then pray this is not that time."
Copyright © 2018 by Michael J. Sullivan
Reviews
There are currently no reviews for this novel. Be the first to submit one! You must be logged in to submit a review in the BookTrackr section above.
Images
No alternate cover images currently exist for this novel.