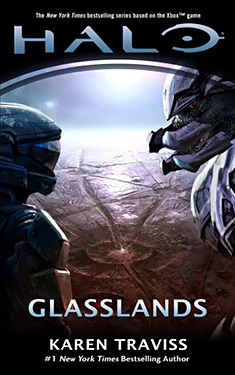 Synopsis
The Covenant has collapsed after a long, brutal war that saw billions slaughtered on Earth and her colonies. For the first time in decades, however, peace finally seems possible. But though the fighting's stopped, the war is far from over: it's just gone underground. The UNSC's feared and secretive Office of Naval Intelligence recruits Kilo-Five, a team of ODSTs, a Spartan, and a diabolical AI to accelerate the Sangheili insurrection. Meanwhile, the Arbiter, the defector turned leader of a broken Covenant, struggles to stave off civil war among his divided people.
Across the galaxy, a woman thought to have died on Reach is actually very much alive. Chief scientist Dr. Catherine Halsey broke every law in the book to create the Spartans, and now she's broken some more to save them. Marooned with Chief Mendez and a Spartan team in a Forerunner slipspace bubble hidden in the destroyed planet Onyx, she finds that the shield world has been guarding an ancient secret - a treasure trove of Forerunner technology that will change everything for the UNSC and mankind.
As Kilo-Five joins the hunt for Halsey, humanity's violent past begins to catch up with all of them as disgruntled colony Venezia has been biding its time to strike at Earth, and its most dangerous terrorist has an old, painful link with both Halsey and Kilo-Five that will test everyone's loyalty to the limit.
Excerpt
CHAPTER ONE
A GOD WHO CREATES TOOLS IS STILL A GOD. IT IS NOT FOR US TO IMPOSE QUALIFICATIONS UPON THE DIVINE OR PRESUME TO GUESS ITS INTENTIONS.
(FORMER FIELD MASTER AVU MED 'TELCAM OF THE SANGHEILI NERU PE 'ODOSIMA--SERVANTS OF THE ABIDING TRUTH--ON REVELATIONS ABOUT THE NATURE OF THE FORERUNNERS)
FORMER COLONY OF NEW LLANELLI, BRUNEL SYSTEM: JANUARY 2553.
It was an ugly bastard, and the temptation to kill it where it stood was almost more than Serin Osman could handle.
It was also pretty upset. Its arms flailed as if it was on some passionate Sangheili rant about politics or religion or whatever they played instead of football, its cloverleaf jaws snapping open and shut like a demented gin-trap. Osman watched from the shuttle cargo bay with her rifle resting on the control panel. Matters could get out of hand with a two-and-a-half-meter alien before you knew it. She was ready to drop the thing before it crushed Phillips.
He could actually speak their language, even if some of the sounds defied simple human jaws. She wondered what he sounded like to them. He was making mirroring gestures back at the Sangheili, and although she couldn't hear the conversation it seemed to be working. The alien did that odd trick with its split mandibles, pressing the two sides together to mimic a human jaw and trying to force out more articulate sounds.
So the hinge-head was mirroring too. It was a good sign. A good sign in a bad deal. No, not a bad deal: a dirty one. Osman stepped down from the bay, careful to keep her rifle close to her leg so she looked prepared but not threatening. Phillips glanced over his shoulder at her, seeming oblivious of the risk.
I'd never take my eyes off that thing. God, what do they teach these academics about personal safety?
She leaned against the hatch frame and waited, glancing at her watch to check Sydney time. Around her, the ruins of New Llanelli felt like a rebuke. The dead tapped her on the shoulder, appalled: And you're talking to these bastards now? On our graves?
A shaft of sunlight struck through a break in the clouds and threw up a bright reflection from a lake in the distance. No ... that's not a lake. Her brain had joined up the dots and made the wrong assumption. She eased her datapad out of her jacket pocket one-handed and checked. There was no body of water for a hundred kilometers on the map in the CAA Factbook. The reflective surface was vitrified sandy soil, mirror-smooth, square hectares of it where there had once been rye and potatoes.
When the Covenant glassed a planet, they really did just that.
Phillips gestured to get her attention and distracted her from the uncomfortable thought that the planet was making a point to her. He walked over to the shuttle, looking pleased with himself.
"The Bishop wants a word," he said. "I told him you were the boss woman. His English is pretty good, so play it straight. And don't call him an Elite. Use the proper name. It matters to them."
Osman pushed herself away from the bulkhead with her hip. "What, like bishop?"
"Ignore that." Phillips--Professor Evan Phillips, another respectable academic who'd been sucked down into ONI's drain--put on his serious face again. "They told me he was devout, but I didn't realize how devout."
"Is that going to be a problem?"
"Might be a bonus."
"Yes, they do tend to stick to a plan."
"I meant that he's a fundamentalist. The Abiding Truth. Very, very old tradition of faith."
"Prompt me. I'm not an anthropologist."
"They're said to have squirreled away original Forerunner relics from the time of their first contact. Their equivalent of saints' fingers."
"It must be my birthday." Osman wasn't sure when that really was. Today seemed as good a day as any. "Maybe they've got some schematics in a dusty drawer or something."
"Come on, don't keep him waiting."
"How is he with women? I don't think I've ever seen a female Sangheili. Do they keep them in purdah or something?"
"It's not that simple." Phillips beckoned to her to follow. "The ladies wield a hell of a lot of political power in the bloodline stakes. When you've got a few hours to kill, I'll explain it."
She didn't, and it could wait. She walked up to the Sangheili, steeling herself not to call him an Elite or a murdering hinge-head bastard.
Osman was taller than the average man, and at one-ninety she wasn't used to having to look up at anybody. But the Bishop towered half a meter above her like a monument in gold armor. For a moment she found herself looking into a disturbingly featureless face before she settled on the black eyes and small, flaring nostrils just below them. The Bishop was sniffing her scent. Unsettling didn't even begin to cover it.
"Captain Osman," Phillips said cautiously, looking back and forth between her and the Sangheili. "Let me introduce you to Avu Med 'Telcam, speaker for the Servants of Abiding Truth. He used to be a field master but he's ... renounced the ways of the infidels and cleansed his name, because they've brought shame and misery on the Sangheili ... and they deserve to hang from spikes." He seemed to be quoting very carefully, glancing at the Sangheili as if for confirmation. He gave her a don't-say-anything-daft look. "He means the Arbiter."
'Telcam sniffed again. Osman could smell him, too. It was a faintly leathery scent, like the seats of a new car. It wasn't unpleasant.
"I'm Captain Osman. I'm a shipmaster." 'Telcam would get the point. "So I keep my word. May we talk?" She gave Phillips her get-lost look. This wasn't for his ears, and that was as much for his own good as Earth's. "Can you give us ten minutes, Professor?"
Phillips nodded and turned to walk away. This was why Osman didn't like using co-opted specialists. If he'd known what she was about to do, he would probably have gone all ethical on her.
I might be underestimating him, of course. But his job's done. It's not his problem now.
'Telcam tilted his head to one side. Osman had to strain to make out the words, but it was no harder than concentrating on a bad radio signal. The creature really could speak pretty good English.
"Shipmaster, my people have been punished because they had no faith," he said. A fine mist of saliva cooled on her face every time he hit a sibilant or an F. It didn't look easy to articulate those four-way jaws. "The traitor Thel 'Vadam and his ilk now say the gods are deceivers, and so they shall die. We have been in thrall to mongrel races long enough. We have let the false prophets of the San'Shyuum corrupt our pure connection to the divine. Now we shall do our penance and bring the Sangheili back to the true path. So what can you possibly want with us? Do you want to agree to a truce?"
"How were you planning on killing 'Vadam and the other ... traitors?"
"We have few ships left now. Few weapons, too. But we have our devotion. We will find a way."
Osman noted the energy sword on his belt. We've got a right one here. A god-bothering, heavily armed maniac. Lovely. I can do business with that. She tried to find genuine common ground in case he could smell fear or deceit on her. A small dash of truth in a soup of lies worked wonders.
"What if we supplied you with some weapons?"
He jerked his head back. "And why would you do that? The traitor sides with humans against his own."
"Humans gamble. I'm betting that your side will win. Dead friends aren't much use."
"Ah." 'Telcam made a little sound like a horse puffing through its lips. A fine spray rained on her again and she tried not to recoil. She picked up a whiff of something far too much like dog food. "Kingmaker. This is your policy. You help us take control so that you know your enemy and think you can then control us."
"Look, we're never going to be friends, Field Master. But we can agree to stay out of one another's way and lead separate existences. Too many lives have been lost. It has to stop."
'Telcam leaned closer again as if he was doing a uniform inspection. "You have colonies here. This is part of the war. This is the cause of our enmity."
"Some of our colonies don't like us very much either. Humans kill humans too."
"How tangled your lives are."
"My, you do speak good English."
"I was a translator once. I interpreted your communications for my old shipmaster. I speak several human languages."
Well, that explained a hell of a lot. Phillips obviously didn't know, or at least he hadn't said, but Osman decided to cut him some slack because he'd only been tasked to do one thing: to get her an audience with dissident Sangheili who were likely to disrupt any peace deals. He was lucky to get that far without having his head ripped off.
"Well, Field Master, I think we can help one another keep our troublesome factions in line." Osman turned slightly to keep Phillips in her peripheral vision, just in case he wandered back and heard too much. "It might require some discretion, because we can't be seen to ally with you. But an unstable ...
Copyright © 2011 by Karen Traviss
Reviews
There are currently no reviews for this novel. Be the first to submit one! You must be logged in to submit a review in the BookTrackr section above.
Images
No alternate cover images currently exist for this novel. Be the first to submit one!