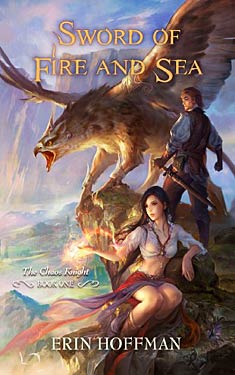 Synopsis
Three generations ago Captain Vidarian Rulorat's great-grandfather gave up an imperial commission to commit social catastrophe by marrying a fire priestess. For love, he unwittingly doomed his family to generations of a rare genetic disease that follows families who cross elemental boundaries. Now Vidarian, the last surviving member of the Rulorat family, struggles to uphold his family legacy, and finds himself chained to a task as a result of the bride price his great-grandfather paid: the Breakwater Agreement, a seventy-year-old alliance between his family and the High Temple of Kara'zul, domain of the fire priestesses.
The priestess Endera has called upon Vidarian to fulfill his family's obligation by transporting a young fire priestess named Ariadel to a water temple far to the south, through dangerous pirate-controlled territory. A journey perilous in the best of conditions is made more so by their pursuers: rogue telepathic magic-users called the Vkortha who will stop at nothing to recover Ariadel, who has witnessed their forbidden rites.
Together, Vidarian and Ariadel will navigate more than treacherous waters: Imperial intrigue, a world that has been slowly losing its magic for generations, secrets that the priestesshoods have kept for longer, the indifference of their elemental goddesses, gryphons-once thought mythical-now returning to the world, and their own labyrinthine family legacies. Vidarian finds himself at the intersection not only of the world's most volatile elements, but of colliding universes, and the ancient and alien powers that lurk between them.
Excerpt
No excerpt currently exists for this novel.
Reviews
Images
No alternate cover images currently exist for this novel.