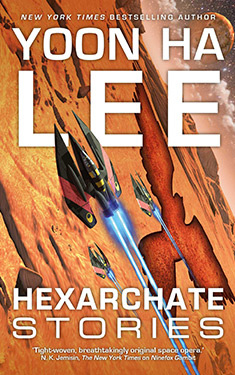 Synopsis
An ex-Kel art thief has to save the world from a galaxy-shattering prototype weapon...
A general outnumbered eight-to-one must outsmart his opponent...
A renegade returns from seclusion to bury an old comrade...
From the incredible imagination of Hugo- and Arthur C. Clarke-nominated author Yoon Ha Lee comes a collection of stories set in the world of the best-selling Ninefox Gambit. Showcasing Lee's extraordinary imagination, this collection takes you to the very beginnings of the hexarchate's history and reveals new never-before-seen stories.
Table of Contents
Hexarchate Timeline
The Chameleon's Gloves (2017) – novelette
How the Andan Court – short story
Seven Views of the Liozh Entrance Exam – short story
Omens – short story
Honesty – short story
Bunny – short story
Black Squirrels – short story
Silence – short story
Extracurricular Activities (2017) – novelette
Gloves – short story
Hunting Trip – short story
The Battle of Candle Arc (2012) – novelette
Calendrical Rot (2016) – short story
Birthdays – short story
The Robot's Math Lessons – short story
Sword-Shopping – short story
Persimmons – short story
Irriz the Assassin-Cat – short story
Vacation – short story
Gamer's End (2015) – short story
Glass Cannon – novella
Excerpt
No excerpt currently exists for this novel.
Reviews
Images
No alternate cover images currently exist for this novel.