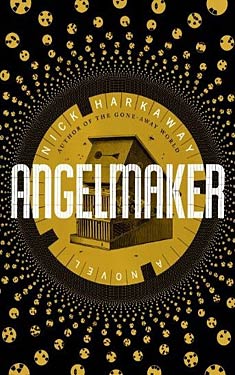 Synopsis
All Joe Spork wants to do is live quietly. He repairs clockwork and lives above his shop in a wet, unknown bit of London. The bills don't always get paid and he's single and in his mid thirties and he has no prospects of improving his lot, but at least he's not trying to compete with the reputation of Mathew "Tommy Gun" Spork, his infamous criminal dad.
Edie Banister lives quietly and wishes she didn't. She's nearly ninety and remembers when she wasn't. She used to be a spy, and now she's... well... old. Worse yet, the things she fought to save don't seem to exist anymore, and she's beginning to wonder if they ever did.
When Joe repairs one particularly unusual clockwork mechanism, his quiet life is blown apart. Suddenly he's getting visits from sinister cultists and even more sinister lawyers. One of his friends is murdered and it looks as if he may be in the frame. Oh, and in case that wasn't enough, he seems to have switched on a 1950s doomsday machine - or is it something even more alarming?
Edie's story and Joe's have collided. From here on in, nothing will be the same - Joe's world is now full of mad monks, psychopaths, villainous potentates, scientific geniuses, giant submarines, determined and extremely dangerous receptionists, and threats to the future of conscious life in the universe - and if Joe's going to fix it or even survive, he must show that he can be everything Mathew was, and much, much more.
Excerpt
No excerpt currently exists for this novel.
Reviews
There are currently no reviews for this novel. Be the first to submit one! You must be logged in to submit a review in the BookTrackr section above.
Images
No alternate cover images currently exist for this novel.