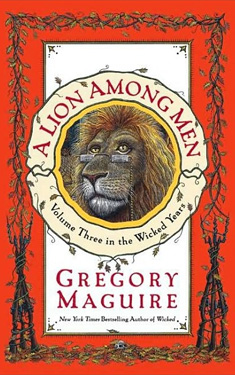 Synopsis
Since the publication of Wicked, millions of readers have discovered Gregory Maguire's fantastically encyclopedic Oz, a world filled with characters both familiar and new, darkly conceived and daringly reimagined. In the third volume of the Wicked Years, we return to Oz, seen now through the eyes of the Cowardly Lion.
Excerpt
Chapter One
The time came for her to die, and she would not die; so perhaps she might waste away, they thought, and she did waste, but not away; and the time came for her to receive final absolution, so they set candles upon her clavicle, but this she would not allow. She blasphemed with gusto and she knocked the scented oils across the shroud they'd readied on a trestle nearby.
"God love her," they said, in bitter, unconvincing voices--or perhaps they meant May the Unnamed God love her, our unrepentant sister Yackle, for we certainly can't.
"Sink me in the crypt," she said, speaking directly to them for the first time in years. "You're too young to know; that's how they used to do it. When the time came for an elder to go and she wouldn't, they settled her down in the ossuary so she could chummy up to the bones. Supplied her with a couple of candles and a bottle of wine. Let her get used to the notion. They came back a year later to sweep up the leavings."
"Mercy," said whoever was nearby to hear.
"I insist," she replied. "Check with Sister Scholastica and she'll bear me out.""She's raving mad," said someone else, chocolately. Yackle approved of chocolate, and indeed, everything edible. Since Yackle's eyesight had gone out for good a decade earlier, she identified individuals by the degree and idiosyncracy of their halitosis.
"She's always been raving mad," said a third observer, Vinegarish Almonds. "Isn't that rather sweet?"
Yackle reached for something to throw, and all she could find was her other hand, which wouldn't detach.
"She's doing sign language." "The poor, deluded dovelette." "Clinging to life so--whatever for?" "Perhaps it isn't her time."
"It is," said Yackle, "it is, I keep telling you. Won't you fiends let me die? I want to go to hell in a handbasket. Put me out of my misery and into the Afterlife where I can do some real damage, damn it."
"She's not herself," said someone.
"She was never reliably herself, to hear tell," said another.
The bedsheets caught fire spontaneously. Yackle found she was rather enjoying this, but it helped neither her reputation nor her rescue that the only liquid nearby with which to douse the flames was cognac.
Still, Yackle was not to be dissuaded. "Isn't there a Superior in the House?" she asked. "Someone who can lay down the law?"
"The Superior Maunt died a decade ago," they replied. "We work by consensus now. We've noted your request to be interred alive. We'll put it on the agenda and take it up next week at Council."
"She'll burn the House down, and us with it," muttered a novice, sometime later. Yackle could tell that the innocent speaker was talking to herself, to stoke her courage.
"Come here, my duckie," said Yackle, grasping. "I smell a little peppermint girl nearby, and no garlicky matron hovering. Are you the sentry? On our own, are we? Come, sit nearer. Surely there is still a Sister Apothecaire in residence? With her cabinets of nostrums and beckums, tonics and tablets? She must possess a sealed jar, it would be dark blue glass, about yea-high, pasted over with a label picturing three sets of crossed tibias. Couldn't you find this and pour me out a fatal little decoction?"
"Not a spoonful of it, I en't the grace to do it," said Peppermint Girl. "Let go a me, you harpy. Let go or--or I'll bite you!"
Out of charity to the young, Yackle let go. It would do the poor girl no good to take a bite of old Yackle. The antidote en't been invented yet, and so on.
Hours and days pass at elastic rhythms for the blind. Whether the pattern of her naps and wakings followed the ordinary interruptions of daylight by nighttime, Yackle couldn't tell. But someone she recognized as Broccoli Breath eventually informed her that the sorority had decided to bow to Yackle's final wish. They would install her in the crypt among the remains of women long dead. She could approach bodily corruption at whatever speed appealed to her. Three candles, and as to nourishment, red or white?
"A beaker of gasoline and a match as a chaser," said Yackle, but she was indulging in a joke; she was that pleased. She nominated a saucy persimmon flaucande and a beeswax candle scented with limeberries--for the aroma, not for the light. She was beyond light now.
"Good voyage, Eldest Soul," they sang to her as they carried her down the stairs. Though she weighed no more than sugarbrittle she was awkward to move; she couldn't govern her own arms or legs. As if motivated by a spite independent of her own, her limbs would keep ratcheting out to jab into doorjambs. The procession lacked a fitting dignity.
"Don't come down for at least a year," she sang out, giddy as a lambkin. "Make that two. I might be old as sin itself, but once I start rotting it won't be pretty. If I hammer at the cellar door don't open it; I'm probably just collecting for some public charity in hell."
"Can we serenade you with an epithalamium, as you go to marry Death?" asked one of the bearers, tucking in the shroud to make it cozy.
"Save your doggy breath. Go, go, on to the rest of your lives, you lot. It's been a swell, mysterious mess of a life. Don't mind me. I'll blow the candles out before I lower my own lights."
A year later when a sister ventured into the crypt to prepare for another burial, she came across the hem of Yackle's shroud. She wept at the notion of death until Yackle sat up and said, "What, morning already? And I having those naughty dreams!" The maunt's tears turned to screams, and she fled upstairs to start immediately upon a long and lively career as an alcoholic.
Copyright © 2008 by Gregory Maguire
Reviews
There are currently no reviews for this novel. Be the first to submit one! You must be logged in to submit a review in the BookTrackr section above.
Images
No alternate cover images currently exist for this novel. Be the first to submit one!