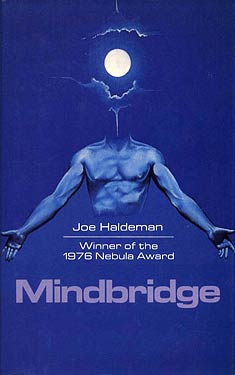 Synopsis
In the space of a few years, Joe Haldeman has come to be recognized as one of the best writers of science fiction of our time. Mindbridge, a novel at once traditional in ist plot and a daring new departure in its structure, is certain to add to this reputation.
Jacque LeFavre live in the formidable world of the future. A pioneer in interstellar colonization, he is the co-discoverer of a creature that acts as a psychic link... allowing one person to sense directly the thoughts and emotions of another. But he learns the terrible price fo this power when his partner suddenly dies.
Older, disillusioned, he is one of a team that confronts the L'vrai, a race of angelic beauty but with a callous disregard for life. They are expanding through the universe and view humankind as a removable obstacle. LeFavre's assignment: establsih a telepathic link with a L'vrai leader and find an alternative to the interstellar war that threatens the extinction of one of the two races.
Excerpt
No excerpt currently exists for this novel.
Reviews
Images
No alternate cover images currently exist for this novel.