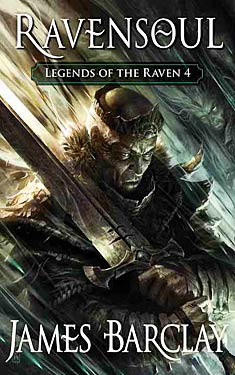 Synopsis
Death cannot separate them.
For those who believe that death is the end, an unbroken rest and peace, here is the wake-up call. For those who believed that the defeat of the demons had finally secured peace for Balaia, here is an enemy far more deadly, far more ruthless and far, far colder.
The Garonin: dimensional travelers seeking new worlds to rape of the element of magical power. Technologically advanced in weaponry and armor, and facing only swords and magic, they are destroying everything in their path.
Surely this is not a battle The Raven can win, even with allies both elven and dragon. But prevail they must, somehow. One thing we know for sure is that they will not subside meekly into the void.
For aficionados of The Raven, this is the ultimate challenge. It cuts to the very heart -from calls beyond the veil of death, to dissension in their ranks, to the greed of men who cannot see they are about to die, to betrayal by one they loved. But above it all, the heroism and selfless sacrifice displayed will bring tears to the eyes of even the most hardened fantasy reader.
This is The Raven, older, wiser, some returned from the grave. Grieving they seek nothing but rest from conflict, something the world will not grant them. But they remain The Raven, still answering when the call comes, still the force most likely to survive and bring the world with them, and still willing to die so that those they love can live.
Excerpt
No excerpt currently exists for this novel. Be the first to submit one!

Submit an Excerpt
Reviews
Images
No alternate cover images currently exist for this novel. Be the first to submit one!