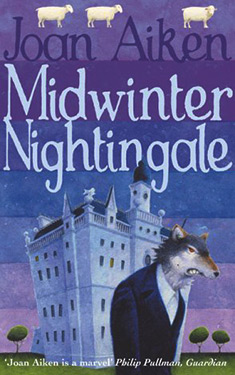 Synopsis
Dido and Simon are in danger in this new addition to the Wolves Chronicles. Dido, back in England from America, is almost instantly kidnapped and taken to a derelict mansion surrounded by a deadly moat. The evil baron residing there, who is also a werewolf, wants desperately to know where King Dick is hidden. For the king is dying, and the evil baron wants to put his own demented son on the throne.
Meanwhile Simon is with the ailing king. Not only does King Dick want Simon to paint a portrait of him and his family, but Simon is also next in line for the throne. However, they do need to find the coronet for the ceremony that will crown Simon. Though the coronet is rumored to be in the derelict mansion where Dido is imprisoned, no one can find it. It's one cliffhanging, hair-raising chapter after another in this tongue-in-cheek, devilishly delicious adventure.
Excerpt
chapter one
The Wetlands Express was notorious for running well behind schedule, and today the passengers could see that it was going to be even later than usual by the time it reached Distance Edge Junction. Here the train was due to divide in half, a passenger coach and four freight cars turning south to Windfall Clumps, while the main part continued westward toward the Combe country, the mountains and the sea.
Simon, looking out the rain-streaked window into the creeping landscape, began to fear that dark would have fallen by the time he reached his destination. He was bound for a solitary manor house situated in a wilderness known as the Devil's Playground because its thickets and swampy woods and overgrown hedgerows were so tangled and mazelike that travelers had been known to get lost among them and wander in circles for days on end.
Rain splashed down the dirty glass, blurring the view of soggy meadows and waterlogged woodlands. Then--quite unexpectedly--the train jerked to a stop. Peering out, Simon saw that they had come to a tiny wayside halt; he could just make out the words FROG MERE on the single signboard. In the long pause that followed, nothing could be heard but the slap of rain on the roof and a deep sigh from the engine, as if the train were expressing its intention of never moving again.
But then the silence was broken by the slam of a door. Somebody--astonishingly in such a godforsaken spot--somebody had entered or left the train. Now footsteps came clacking in a purposeful way along the corridor, and the door to Simon's compartment was vigorously slid open.
Simon sighed, almost as deeply as the train. He was not at all anxious for company.
The girl who came in gave him an intent, considering look, half frowning, half friendly, before settling herself in the diagonal corner with a swish and flounce of dark brown velvet skirts and a twitch of her long fur driving coat. She neatly aligned her feet in well-polished boots and then, when she had made herself thoroughly comfortable, gave Simon another long, shrewd scrutiny.
"You look human, anyway!" she remarked. "Really, when a person travels across this country, they hardly know what to expect. I've been told there's still marsh men with webbed feet! So I do like to pick a compartment where there's somebody who at least looks as if he would know what to do if the train broke down."
Simon was doubtful whether he deserved this compliment. And he was not at all flattered by her wish to join him. The errand that brought him to this wild secluded country was a particularly private one and he wanted no hint of its nature to leak out. But he had a kind heart and did not like to snub the girl who had chosen his company.
He had to admit that she looked inoffensive enough. Her hair was dark and short and curved close about her head under a fur cap. Her round freckled face was not pretty--her pink cheeks were too plump, her nose and mouth too big--but she looked lively and keen, dimples showed in her cheeks and a pair of dark gray eyes laughed at Simon as she settled a foreign-looking cat in a cage on the seat beside her.
"I won't eat you, I promise! And nor will Malkin here, will you, puss? I can see that you are wishing me at the world's end. But I swear that I am really very harmless. I'll even guarantee not to talk at all if you prefer silence. But if you like to talk--as I do--my name is Jorinda."
"Mine is Simon."
As soon as he had said this, Simon wished he had held his tongue. But the name did not seem to strike any chord in Jorinda, who, taking this as an acceptance of her offer to chat, went on doing so in a low husky confiding voice with a hint of a chuckle in it.
"You see, it is like this: My brother has finished school--at least, he was dismissed for bad behavior--if the truth be told--so I decided that I might as well quit my own abode of instruction in Bath (where they quite washed their hands of me in any case; they say I am incapable of grasping anything beyond ABC) so as to be back at Granda's manor before news about my brother reaches him--and so cushion the blow for the old boy. Don't you think that is best? Don't you think it a sensible plan?"
"Will your grandfather be very angry with your brother?"
"Oh, yes! Prodigiously! The last time Lot was expelled, Granda had a seizure, and foamed at the mouth, and Dr. Fribble had to bleed him and cauterize and phlebotomize him and put him to bed for three weeks with cold compresses and antiphlogistine and nettle gin--that was after Granda had chased Lot round the stable with a walrus tusk and knocked out two of Lot's front teeth. One trouble is, you see, that Lot is only my half brother; he isn't Granda's grandson. Granda never really wanted to have us wished on him. He was only persuaded by Lord Hatchery, who is our cousin and Master of Foxhounds."
"Is your brother younger than you?"
She shook her head.
Simon thought she looked rather old to be still at school. Seventeen or eighteen, perhaps? He wondered why she spoke of her grandfather and not her father or mother--where were they? But he was not really interested in her confidences and decided that this would be a good moment, while the train was at a standstill, to walk along to the horse box and check on the well-being of his mare, Magpie.
"I'm just going to visit my mare," he said to the girl. "I'll be back in a few minutes." He stood up.
But Jorinda had already plunged into an account of how her brother, who was the cleverest person she knew, had been sent to school at Fogrum Hall after being thrown out of Harrow.
Copyright © 2004 by Joan Aiken
Reviews
There are currently no reviews for this novel. Be the first to submit one! You must be logged in to submit a review in the BookTrackr section above.
Images
No alternate cover images currently exist for this novel.