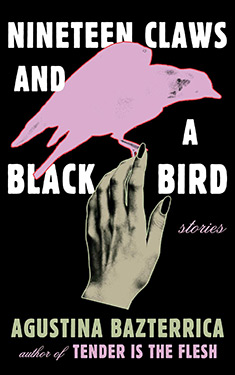 Nineteen Claws and a Black Bird
Author:
Agustina Bazterrica

Publisher:
Scribner, 2023

Series:

This book does not appear to be part of a series. If this is incorrect, and you know the name of the series to which it belongs, please let us know.

Submit Series Details

Book Type:
Collection
Genre:
Horror
Sub-Genre Tags:
Awards:
Lists:
Links:
Avg Member Rating:

(1 reads / 1 ratings)
Synopsis
A collection of nineteen dark, wildly imaginative short stories from the author of the award-winning TikTok sensation Tender Is the Flesh.
From celebrated author Agustina Bazterrica, this collection of nineteen brutal, darkly funny short stories takes into our deepest fears and through our most disturbing fantasies. Through stories about violence, alienation, and dystopia, Bazterrica's vision of the human experience emerges in complex, unexpected ways--often unsettling, sometimes thrilling, and always profound. In "Roberto," a girl claims to have a rabbit between her legs. A woman's neighbor jumps to his death in "A Light, Swift, and Monstrous Sound," and in "Candy Pink," a woman fails to contend with a difficult breakup in five easy steps.
Written in Bazterrica's signature clever, vivid style, these stories question love, friendship, family relationships, and unspeakable desires.
Excerpt
1. A LIGHT, SWIFT, AND MONSTROUS SOUND
First the dentures fell onto the blue tiles of your patio. They broke in two, and it was that harsh, metallic sound that stopped you in your tracks. You crouched down to pick up one of the halves. It was clearly old and belonged to an unkempt person, someone with no dental hygiene whatsoever. You wondered who this could be, whether it was some neighbor who'd dropped them or thought to throw them onto your patio. You were about to take one more step, to pick up the other half, but you stood there thinking it was a little ironic that dentures had fallen precisely onto your patio, a dentist's patio, and it was at that moment that Menéndez's body fell, seconds after his dentures.
The sound of Menéndez's body plummeting, breaking, dying on the blue tiles of your patio, that vulgar and profound noise, paralyzed you. You clutched the dentures until they cut your hand as you watched Menéndez's blood stain your patio. You thought you could hear his blood dirtying your tiles; you thought you understood the sound to be like the cold, a cold that's light, swift, and monstrous.
You crouched down as though by force of habit and picked up the other piece, which was very close to your bare foot, your shoeless foot, a January 1 foot, at home on holiday, at the start of a new year that would be productive and happy, while your neighbor Menéndez lay dead on the blue tiles of your patio.
You looked at Menéndez's body, which was naked and had no dentures. You smiled because it would have been very easy for you to fix his dentures and you would have done so free of charge, because Menéndez was your neighbor, had been your neighbor. His mouth was now open, empty. The expression on his face was one of hatred, a hatred that was pure, specific, directed, a hatred targeted at the woman who lived on the ground floor in apartment B, at you.
You saw Menéndez's red blood, which was essentially black, move slowly toward your right foot, and you became aware that half a centimeter had prevented you from ending up underneath the frail but forceful bones, the yellowed and oily, murderous skin, the toothless mouth of the filthy old man that was Menéndez.
The sound of his body committing suicide on the blue tiles of your patio, that sound, which now seemed faint, almost insignificant, but that had been excessive, cruel, had become mixed up with the question of why he'd gone and killed himself on your patio. He'd had several others, abandoned patios, larger patios, flower-filled patios, empty patios, beautiful patios, patios with no neighbor hanging clothes barefoot in a nightgown on January 1. You looked up and understood that the only way Menéndez could have killed himself on your patio was by climbing onto the wall of his rooftop terrace. Menéndez had chosen your patio; he'd chosen you. He'd tried to kill you, or at the very least, harm you. Menéndez had gone to so much effort, you thought, and yet had been so ineffective.
You shuddered when you saw the blood run slowly, but ferociously, around the edges of your foot. The soft sound of the red liquid moving almost in silence made your body go cold and you wanted to scream, but all you did was stare at the dentures.
You heard the neighbors behind the door to your apartment. So many neighbors, so many patios, so much noise. They rang the bell, knocked, called out your name, but you were looking, mesmerized, at Menéndez's horribly made dentures, and you laughed, because you understood that this was an awful joke fate had played on you, one of those stories that happen only to a colleague's cousin's friend's girlfriend, who tells it in a way that's humorous and not very convincing at some forgotten gathering, mixing your story, your truth, with improbable urban legends, while everyone laughs and drinks and thinks that a neighbor will never fall on their heads. And you felt that people like you didn't deserve this, courteous people, professional people, people with their lives together and in order, people you considered to be good, because you were an exemplary person, your values were in the right place, and you were destined for success. That Menéndez's repugnant, naked body was an omen at the start of your year, a sign from the heavens, was simply unacceptable. That an everyday appliance, an object of decidedly little value, such as used dentures, had intervened and saved your young and vital body, your perfect and radiant teeth, from ending up under Menéndez's decaying bones, his aging, sweating skin, was an insult.
You remained there, crouched down and clutching the dentures, the two halves in your hand, while someone knocked your door in and the neighbors and police entered, yelling things and crying out, their sentences full of panic, and you heard odd words like señorita, how awful, suicide, neighbor, ambulance, male, shock, police station, poor girl, file a report, what a tragedy, Menéndez, we're nothing.
Someone put a blanket over your shoulders, though it was the middle of summer, and human stupidity seemed so natural to you, the automatic and senseless gesture to protect. Someone tried to move you, to sit you down on a chair, but you didn't want the edges of your foot to lose contact with the bestial yet almost inaudible sound of the blood; you didn't want to stop hearing it. They brought you a chair and you sat down, your bare feet red and soaked.
Your fourth-floor neighbor came over. You recognized her by the stench of confinement and ten-cent incense. She put her hand over her mouth and said, How dreadful, my dear, how dreadful, what a tragedy, God save us, how awful. She touched your hair and you moved her hand away as if you were ridding yourself of a plague, a venereal infection, a biblical curse. She huffed, indignant, and said something like, The nerve, and, Rude young lady, but she said it all together, Thenerveofthisrudeyounglady. You asked yourself if there was a wise woman out there who could teach you to behave in a civilized manner next to your neighbor's naked, dentureless body. She left for the kitchen, taking with her the smell of mothballs and breath saturated with a mix of rancid medication and alcohol masked with coffee. You didn't care that the other women from the building joined the one from the fourth floor, and that all of these shocked neighbors made remarks, talked, breathed, while they pointed at Osvaldito, which is what they called Menéndez, whom they'd apparently known for such a long time. You thought that the older women who gathered in the hallways with their short, poorly dyed hair, their long, painted nails, and small, amputated brains, were united by a common misguided imbecility. They shared an excessive passion for tiny, hyperkinetic dogs, controversial breeds that in general tend to be programmed with minute but shrill yelps. These women come across as completely inoffensive beings, but they live comfortably submerged in a combination of evil and normalcy produced by an unhealthy amount of leisure time, the impunity of old age, the need to be present for every occurrence that involves someone else in order to talk about it later in the hallways, in the elevator, during building meetings, at the bakery, at the front door, with the superintendent, with the neighbors in other buildings, with those among them who were fortunate enough not to have been in that rude young lady's place.
You looked at them closely and they seemed to you a despicable group of humans. This group had settled into your kitchen, was helping itself to water from the fridge and smoking impertinently, which you found more violent than the sound of Menéndez exploding on your patio. Human evil knows no limits, you said. You repeated this sentence, your foot bloody, and thought that you led an ordinary life in which you were happy fixing other people's ailing teeth and mouths, in which you felt protected cleaning the suction cannula, or a certain power while you held the #15 blade scalpel, or the spirit of adventure when you looked for rebellious cavities, or important when you gave threatening and serious talks on oral hygiene. And on occasion, on a January 1, something simple could happen, like a neighbor falling onto your patio, and all the talks and all the apparent security of your home would be reduced to an interminable string of platitudes, and to get away from them, you would consider it preferable to listen to the opaque silence of the blood touching your right foot.
You lift your gaze from your foot (from that bizarre foot), and from the blood (from that unfamiliar blood). Two people take notes and pictures of the dead neighbor whose body is on your patio. You look at Menéndez as though you're seeing him for the first time, and you understand that the sound of the naked, toothless body belonging to the filthy old man that he was, the sound of him breaking on the blue tiles of your patio, encased you in anarchy, in the chaos originating in the neighbors who look at you with feigned pity and a certain cordial disdain, in the police who talk to you with words that are imperative, broken, mechanical, in the world that's oppressively civilized and atrocious.
You cover yourself a little more with the blanket, though it's a hot day, because now you know, with an acute certainty, that the sound forced you out of your ordered happiness, shattered your little life of comfort, wise choices, and adequate truths. There it is, the blow that was minuscule and forceful, the explosion of Menéndez's body inside yours, under your bones. It's a faint feeling, but you intuit that it's definitive, irreversible. You inhale and exhale and the merciless sound invades the hollows of your home, the city, the world. It's like the water in an underground river you can't see; it's hidden behind the blood, lurking, but you hear it wounding, with a relentless, light, and monstrous silence, the inside of your thoughts in the center of your cerebral cortex.
Copyright © 2023 by Agustina Bazterrica
Reviews
There are currently no reviews for this novel. Be the first to submit one! You must be logged in to submit a review in the BookTrackr section above.
Images
No alternate cover images currently exist for this novel.