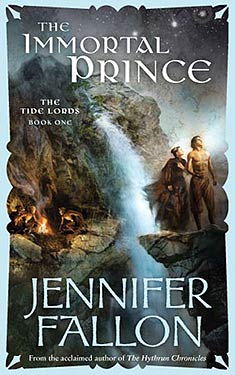 Synopsis
When a routine hanging goes wrong and a murderer somehow survives the noose, the man announces he is an immortal. And not just any immortal, but Cayal, the Immortal Prince, hero of legend, thought to be only a fictional character, a figure out of the Tide Lord Tarot, the only record left on Amyrantha of the mythical beings whom the part-animal, part-human Crasii believe created their race.
Arkady Desean is an expert on the legends of the Crasii. At the request of her childhood friend, Declan Hawkes, the Kings Spymaster, she is sent interrogate this would be immortal, hoping to prove he is a spy, or at the very least, a madman.
Set the task of proving Cayal a liar, Arkady's own web of lies, and that of her husband and the King's Spymaster will start to unravel. Nothing is really as it seems around Cayal, the Immortal Prince - the lies seem plausible, his stories improbable and truth more than any of them bargained for.
Excerpt
No excerpt currently exists for this novel.
Reviews
Images
No alternate cover images currently exist for this novel.