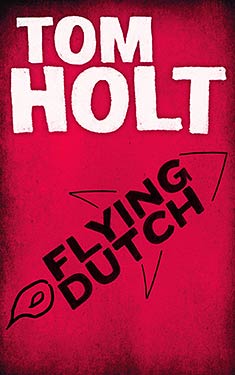 Synopsis
It's amazing the problems drinking can get you into. One little swig from an oddly-shaped bottle and you go from being an ordinary Dutch sea-captain to an unhappy immortal, drifting around the world with your similarly immortal crew, unable to stay in port for long owing to side effects we won't go into right now. You become a creature of myth and legend. Worst of all, Richard Wagner writes an opera about you.
Little does Cornelius Vanderdecker, the Flying Dutchman, suspect that a chance encounter in an English pub might just lead to the end of his cursed life, one way or another.
Together with his crew, A BBC film unit (one of whom is still investigating Milk Marketing Board conspiracy theories), a scientists who invented everything, and Jane Doland, an undercover accountant for the National Lombard Bank, the Dutchman falls into a series of events which even the composer of The Ring of the Nibelungs might consider overly coincidental and chaotic.
Excerpt
On her way back home to Maida Vale on the tube, the girl who had seen the Flying Dutchman was bored, for she had forgotten to bring a book with her to read on the journey. Not that she had ever doubted for one split second that she was coming home tonight - perish the thought! It had been simple forgetfulness, and the tedium of having nothing to entertain herself with but the posters and her opera programme was a fitting punishment.
After a random sample, she decided that the opera programme was marginally less dire than the posters, and she read the synopsis of the plot again. A modern version of the story, she decided, with the Dutchman doomed to spend the rest of time going round and round the Circle Line with nothing to read but vilely-phrased propaganda from the employment agencies, might have some possibilities, but by and large the whole idea was not so much tragic but silly. the daftest part, she reckoned, was the idea that Satan could get you just for expressing a determination to get round a traffic hazard - if that rule still applied, she said to herself, then you wouldn't be able to set tyre to pavement on the Chiswick Roundabout for souls in torment. Or perhaps the rule did still apply. It would explain the way some people drove.
The train stopped at Paddington, opened its doors, and sat very still. In the corner of the carriage there was a tramp with wild white hair and very distressing shoes, fast asleep with his head almost between his knees, but otherwise she was alone. The girl abandoned the legend of the Flying Dutchman and turned her thoughts toward the great web of being, with particular reference to her own part in it. I am an accountant, she said to herself, working mainly in banking. Why is it that, whenever I remember this fact, I want to scream?
Perhaps, she considered, the Dutchman story wasn't so silly after all. Perhaps Satan did hover unseen in the ether waiting to pounce on ill-considered sayings. She had only said one very stupid thing in her life - 'I want to be an accountant' - but of the various explanations for her present condition to which she had given consideration before, the Satan theory was as good as any.
Copyright © 1991 by Tom Holt
Reviews
There are currently no reviews for this novel. Be the first to submit one! You must be logged in to submit a review in the BookTrackr section above.
Images
No alternate cover images currently exist for this novel.