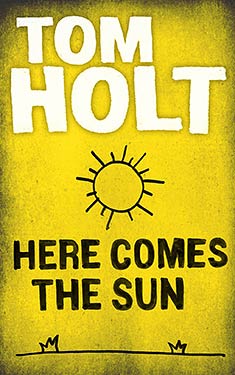 Synopsis
All is not well with the universe - cutbacks have taken their toll, and the sun is dirty and late, thanks to being 30 billion miles overdue on its next service. None of the committees can agree on anything, and extreme measures seem called for.
Excerpt
The sun rose.
It was dirty. It was late. It was thirty billion miles overdue on its next service. There was a thin film of oil on its surface, the result of a sprung gasket. But it was up and running, and that in itself was something of a miracle. all things considered.
"Over to you, son," said the Principal Technical Officer, wiping his forehead with the back of his hand. "Just don't drop it, all right?"
The Assistant Technical Officer scowled. "You always say that," he replied. "And have I ever ...?
"Not yet."
The older official looked down at the great fiery disc and smiled in spite of himself. True, he could hear the distinct grinding noise and smell the burning oil, but it was still and impressive sight. They'd built things to last in those days, which was just as well. Of course, they had the funding, then.
"Here," said the younger official. "The gyro's packed up again."
"Gyro," replied his colleague scornfully. "Bloody modern tat. You'll just have to fly it on manual, that's all."
"Oh no," whined the younger official. "That's no good. If I gotta do that I'll have to miss lunch again."
"Tough." The Principal Technical Officer's soul passed a few observations about the younger generation, with particular reference to those members of it who wore earrings. "When I was your age ..."
"Yeah, yeah, you told me."
"Given anything, I would, for a chance to fly her solo." He paused, remembering. "We took a pride in our work in those days," he added.
"Yeah. Well."
The younger official had a point. Things were different now, the Principal Technical Officer admitted to himself as he packed up his knapsack and put on his bicycle clips. Not quite so run down for one thing. The Great Bear wasn't held in its place in the firmament by three hundred thousand miles of insulating tape and a bent nail.
"You should think yourself lucky," he said without conviction, "that you've got a job at all."
His junior colleague didn't even bother to reply; he was leaning on the dead man's handle, eyes vacant, Walkman headphones on, staring down towards Betelgeuse. Something told the Principal Technical Officer that if humanity made it through to nightfall with nothing worse than a few hours of inexplicable darkness it should count itself lucky.
Copyright © 1993 by Tom Holt
Reviews
There are currently no reviews for this novel. Be the first to submit one! You must be logged in to submit a review in the BookTrackr section above.
Images
No alternate cover images currently exist for this novel. Be the first to submit one!