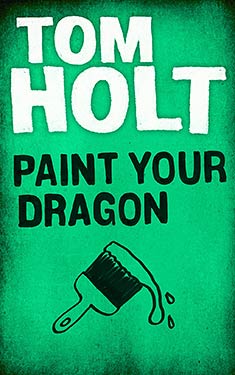 Synopsis
Sculptress Bianca Wilson is a living legend. St. George is also a legend, but not living. However, when Bianca's sculpture of the patron saint and his scaly chum gets a bit too lifelike, it opens up a new can of wyrms. The dragon knows that in the battle between Good and Evil, Evil got a raw deal and is looking to set the record straight. And George (who cheated) thinks the record's just fine as it is.
Excerpt
Once upon a time, long ago and far away, there was a great battle between Good and Evil. Good was triumphant, and as a result Humanity has lived happily every after.
But supposing Evil threw the fight...
And supposing Good cheated...
He stepped off the plane into the belly of the snake; the long, winding tube thing they shove right up to the cabin door, so that newly arrived foreigners don't get a really close look at dear old England until they're through passport control and it's too late.
He didn't actually have a passport; but he explained at the barrier exactly why he didn't need one, and so they let him through. In answer to his polite enquiry, they told him, 'Britain'. They even urged him to have a nice day, which was rather like imploring petrol to burn.
Down the steps he went, into the baggage hall. The carousel was empty and the indicator board expressed the view that the luggage from Flight BA666 might be along in about half an hour, maybe forty minutes, call it an hour to be on the safe side, provided always it hadn't got on the wrong plane by mistake; in which case, it was probably having a far more exotic holiday than its owners had just returned from, and would probably settle down over there, adopt new owners, and lead a much fuller, richer life than it could ever have had in a damp, miserable country like this. He read the board and smiled indulgently. Then he concentrated.
The firs item to roll out through the little rubber flaps was a big, old-fashioned steamer trunk. He looked at it, head slightly on one side, pursed his lips and shook his head. "Smaller," he said. The trunk went round and disappeared.
Next came a matching three-piece set of designer pigskin travelware, with very fancy brass locks, little wheels for ease of handling, and monogrammed straps. He shook his head vigorously, and the travelware, handles drooping with shame, made itself scarce.
Then came a medium-sized plain vinyl suitcase, no wheels. He was clearly tempted because he picked it up and tested the weight. But it must have seemed too heavy or too bulky because he put it back again, and a moment later it too trickled out through the flaps. A similar item, more or less exactly the same except for the colour and the contours of the handle, came next, but was dismissed with a slight pucker of the lips and a small sideways head movement.
It was followed a moment later by a simple black canvas holdall, with webbing handles and a shoulder strap. He looked at it, nodded and picked it up. He unzipped it; it was empty. When he zipped it up again, it was full. He looked around until hew saw the exit sign and walked on briskly. Needless to say, the Customs men didn't even seem to notice him.
Copyright © 1996 by Tom Holt
Reviews
There are currently no reviews for this novel. Be the first to submit one! You must be logged in to submit a review in the BookTrackr section above.
Images
No alternate cover images currently exist for this novel. Be the first to submit one!