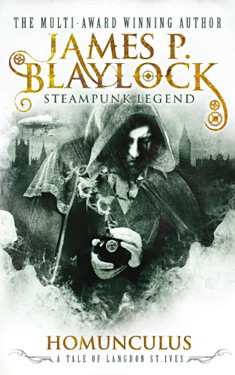 Synopsis
Homonculus is a fascinating trip to a London that never existed... but perhaps should have.
Darkly atmospheric, Homonculus weaves together the stories of Narbondo -- a mad hunchback who works tirelessly to bring the dead back to life, of the members of the Trismegistus Club -- a surly group of scientists and philosophers who meet at Captain Powers' Pipe Shop, and of the homonculus -- a tiny man whose powers can drive men to murder.
Excerpt
From Owlesby's Memoirs
"I'm posessed by the evil aching of the head - such that my eyes seem to press down to the size of screwholes, so that I see as if through a telescope turned wrong end to. Laudanum alone relieves it, but fills me with dreams even more evil than the pain in my forebrain. I'm certain that the pain is my due - that it is a taste of hell, and nothing less. And I can feel myself decay, feel my tissues drying and rotting like a beetle-eaten fungus on a stump, and my blood pounds across the top of my skull. I can see my own eyes, wide as half crowns and black with death and decay, and Narbondo ahead with that ghastly shears. I pushed him along! That is the truth of it. I railed at him. I hissed. I'd have that gland, is what I'd have, and before the night was gone. I'd hold in my hand my salvation... "
Copyright © 1986 by James P. Blaylock
Reviews
Images
No alternate cover images currently exist for this novel.