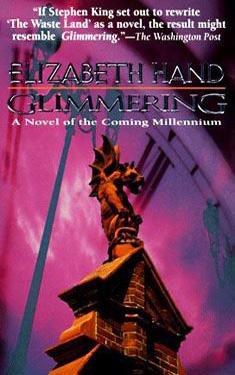 Glimmering
Author:
Elizabeth Hand

Publisher:
HarperCollins/Voyager, 1997

Series:

This book does not appear to be part of a series. If this is incorrect, and you know the name of the series to which it belongs, please let us know.

Submit Series Details

Book Type:
Novel
Genre:
Science-Fiction
Sub-Genre Tags:
Awards:
Lists:
Links:
Avg Member Rating:

(13 reads / 5 ratings)
Synopsis
It is 1999. The Last Days, or some say, the First. The climate has warmed dramatically, the cities have imploded into riotous shards, and the sky is a glimmering array of reds and greens and golds.
In fin de siecle New York, a millionaire publisher, a jaded rock star and the girl who, in her own way, loves them both are watching the waters rise as the cults begin the frenzies of the Night of the Thousand Years.
Excerpt
Chapter One
March 26, 1997: At Lazyland
On the night of his fortieth birthday, John Chanvers Finnegan stood upon the balcony of his Yonkers mansion and watched the sky explode above the Hudson River. it was the end of March, an unusually warm and beautiful day in early spring; though all the days now seemed lovely and warm, bathed as they were in the vernal glow of a dying century. From the house beneath him came the sigh and hum of conversation, an occasional ritornello of raucous laughter -- Leonard's, Jack thought, and allowed himself a melancholy smile. He had come outside, not so much to be alone, as to savor the notion that everyone he loved best in the world was there with him now: his surviving friends, his ex-lover, his grandmother, his brothers. From here he could listen to them all, see them even, if he leaned over the balcony and craned his neck to look back at the house.
But he didn't do that. It was enough, to know they were there; enough to sip champagne from a crystal lily, and listen.
The house was called Lazyland. it had been built in 1884 by the department store entrepreneur Myles Finnegan, Jack's great-grandfather. just four years earlier, in 1880, Myles had worked in Stevens' variety store on North Broadway in Yonkers, stocking shelves and sweeping the day's detritus of torn paper, bent nails, and broken glass out onto the sidewalk. One rainy morning in September his employer, suffering from an attack of gout, sent Myles in his place to the import warehouse of a toy wholesaler in Brooklyn. There Myles was to inspect the company's selection of new and unusual items to sell at Christmas.
"Here," the importer said, pointing to excelsior-filled crates in which nestled papier-mache creches from Salzburg's kristkindlmarket; porcelain dolls from Germany; English lead soldiers and French soubrettes of colored paper, with lace roses and spun-glass hair. There were boxes of tin flowers and images of the Christ Child cast in wax, silver-embossed cardboard animals from Dresden, and little metal candleholders to clip onto fragrant pine boughs. Myles, tall and dark and lean, with an expression of perpetual surprise, had big bony hands more accustomed to handling cartons of dry goods than these fragile toys. He wondered aloud if there wasn't anything new
The importer turned, affronted, from admiring his painted lead battalions. "These I just received yesterday."
Myles shook his head. "Different," he said. "I wonder now, have't you anything different? Unusual, I mean -- " He fingered a doll's tartan gown and tried to look knowledgeable.
"Unusual?" The importer nodded eagerly, suddenly blessed with an idea. "I didn't understand that your employer is looking for the unusual this season. Has Mr. Stevens seen these?
He took Myles's arm and led him to a darker part of the warehouse. Overhead a single gas lantern cast a fluttering light, but on the floor beneath there seemed to be myriad candles glowing within a row of wooden boxes: a cache of rubies and sapphires and golden orbs that made Myles suck in his breath, amazed.
"What is it, then?" he whispered.
The importer tilted his head. "These are Christmas tree dressings from Sonneberg." He stooped and very carefully removed a blown-glass dog, held it up so that it turned gleaming in the gaslight. "Lovely, aren't they?"
"They're beautiful," breathed Myles Finnegan. He knelt beside the rows of boxes, took first one and then another of the brilliant confections from their paper wrappings, and raised them to the light.
"They reflect the candlelight, you understand," the importer explained somewhat officiously. "It reduces the cost of buying many candles, which as you know are so expensive right now. . ."
His voice trailed off. He did not offer to Myles Finnegan that the ornaments had been in the warehouse for some months, having proved impossible to sell. They were too expensive, too fragile; no one but German immigrants would want them, and who amongst the poor Germans could afford such frivolities?
Myles continued to gaze entranced upon the shining glass figures. He thought of the Christmas tree in his employer's house, the only one he had ever seen. Magic it had been, with the sweet wild smells of wax and balsam, and Mr, Stevens's children shrieking with delight as they pulled their gifts from the dressed boughs; but to see a tree glittering with such things as these! He drew a multicolored teardrop close to his face, saw within its glorious curve his cheeks streaked gold and green and crimson and his eyes ashine like stars. "How much?" he asked.
The importer quoted a figure seven times what he had paid his business counterpart in Sonneberg. But Myles proved to be more astute than that; they argued and dickered for fifteen minutes before agreeing upon a price that Longfellow Stevens would not consider too dear.
Unfortunately, when the crates of ornaments arrived some weeks later, Mr. Stevens reacted much as the importer's other customers had when shown the pearls of Sonneberg.
"I can't sell these!" he fumed. "Glass! Mr. Finnegan, what were you thinking?" He kicked angrily at a carton, then turned a red face upon his employee. "I have no use for them. Send them back."
"He -- he won't take them, sir." Myles swallowed. "It was the agreement we made, we would take them at this price -- "
"We? We?" roared Longfellow Stevens. "We agreed to nothing! As of this week your employment is terminated, Mr. Finnegan!"
Myles stared at him, too stunned to be angry. But when Mr. Stevens began talking of withholding his wages to pay for the shipment, Myles spoke.
"I'll take them, then. The Christmas boxes."
"You will not."
"In place of my wages." He was already bending over the cartons, light as the egg panniers that came daily from Flatbush. "I'll take the Christmas dressings."
Copyright © 1997 by Elizabeth Hand
Reviews
Images
No alternate cover images currently exist for this novel.