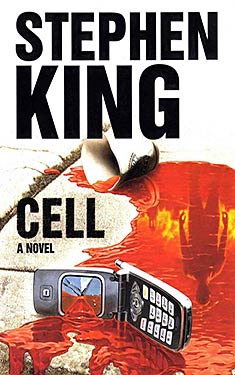 Film & Television Adaptations
Synopsis
On October 1st, God is in His heaven, the stock market stands at 10,140, most of the planes are on time, and Clayton Riddell, an artist from Maine, is almost bouncing up Boylston Street in Boston. He's just landed a comic book deal that might finally enable him to support his family by making art instead of teaching it. He's already picked up a gift for his long-suffering wife, and he knows just what he'll get for his boy Johnny. Why not a little treat for himself? Clay's feeling good about the future.
That changes in a hurry. The cause of the devastation is a phenomenon that will come to be known as The Pulse, and the delivery method is a cell phone. Everyone's cell phone. Clay and the few desperate survivors who join him suddenly find themselves in the pitch-black night of civilization's darkest age, surrounded by chaos, carnage, and a human horde that has been reduced to its basest nature...and then begins to evolve.
There are 193 million cell phones in the United States alone. Who doesn't have one? Stephen King's utterly gripping, gory, and fascinating novel doesn't just ask the question "Can you hear me now?" It answers it with a vengeance.
Excerpt
1
The event that came to be known as The Pulse began at 3:03 p.m., eastern standard time, on the afternoon of October 1. The term was a misnomer, of course, but within ten hours of the event, most of the scientists capable of pointing this out were either dead or insane. The name hardly mattered, in any case. What mattered was the effect.
At three o'clock on that day, a young man of no particular importance to history came walking--almost bouncing--east along Boylston Street in Boston. His name was Clayton Riddell. There was an expression of undoubted contentment on his face to go along with the spring in his step. From his left hand there swung the handles of an artist's portfolio, the kind that closes and latches to make a traveling case. Twined around the fingers of his right hand was the drawstring of a brown plastic shopping bag with the words small treasures printed on it for anyone who cared to read them.
Inside the bag, swinging back and forth, was a small round object. A present, you might have guessed, and you would have been right. You might further have guessed that this Clayton Riddell was a young man seeking to commemorate some small (or perhaps even not so small) victory with a small treasure, and you would have been right again. The item inside the bag was a rather expensive glass paperweight with a gray haze of dandelion fluff caught in its center. He had bought it on his walk back from the Copley Square Hotel to the much humbler Atlantic Avenue Inn where he was staying, frightened by the ninety-dollar pricetag on the paperweight's base, somehow even more frightened by the realization that he could now afford such a thing.
Handing his credit card over to the clerk had taken almost physical courage. He doubted if he could have done it if the paperweight had been for himself; he would have muttered something about having changed his mind and scuttled out of the shop. But it was for Sharon. Sharon liked such things, and she still liked him--I'm pulling for you, baby, she'd said the day before he left for Boston. Considering the shit they'd put each other through over the last year, that had touched him. Now he wanted to touch her, if that was still possible. The paperweight was a small thing (a small treasure), but he was sure she'd love that delicate gray haze deep down in the middle of the glass, like a pocket fog.
Copyright © 2006 by Stephen King
Reviews
Images
No alternate cover images currently exist for this novel.