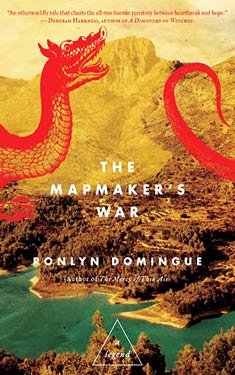 Synopsis
This will be the map of your heart, old woman.
In an ancient time, in a faraway land, a young woman named Aoife is allowed a rare apprenticeship to become her kingdom's mapmaker, tasked with charting the entire domain. Traveling beyond its borders, she finds a secretive people who live in peace, among great wealth. They claim to protect a mythic treasure, one connected to the creation of the world. When Aoife reports their existence to her kingdom, the community is targeted as a threat. Attempting to warn them of imminent danger, Aoife is exiled for treason and finds refuge among the very people who had been declared her enemy. With them, she begins a new life surrounded by kindness, equality, and cooperation. But within herself, Aoife has no peace. She cannot share the grief she feels for the home and children she left behind. She cannot bear the warrior scars of the man she comes to love. And when she gives birth to their gifted daughter, Aoife cannot avoid what the child forces her to confront about her past and its truth. On this most important of journeys, there is no map to guide her. In this tale, her autobiography; Aoife reveals her pain and joy, and ultimately her transformation.
Excerpt
TRANSLATOR'S NOTE
This narrative is an exceptional rarity. The source language scarcely has been heard spoken outside its cultural borders. Until the acquisition of this work, the presumption was that no writing system existed for the language. In remarkable condition despite its age, the handwritten manuscript is not only one of the earliest known autobiographies but also one of the first attributed to a woman.
The author's rhetorical structure defies the conventions of any period; she addresses herself throughout and appears to be her own audience. Further, while matters of war and society are so often the domain of chroniclers, historians, and philosophers, this author offers a concurrent, heretofore unknown representation of past events through the story of a participant and a survivor.
Simplified pronunciations of several proper names are as follows. Aoife [ee-fah]; Ciaran [keer-ahn]; Wyl [will]; Aza [ah-zah]; Edik [ed-ick]; Leit [lite]; Wei [why]; and Makha [mahk-ah].
--S. Riven
* * * * *
THIS WILL BE THE MAP OF YOUR HEART, OLD WOMAN. You are forgetful of the everyday. | misplaced cup, missing clasp | Yet, you recall the long-ago with morning-after clarity. These stories you have told yourself before. Write them now. At last, tell the truth. Be sparse with nostalgia. Be wary of its tangents. Mark the moments of joy but understand that is not now your purpose. Return to the places where your heart was broken. Scars evidence harm done. Some wounds sealed with weak knits. They are open again. The time has come to close them.
Here, choose the point of entry. Any place, any time, right now and you have--
Your small finger in the hearth's ashes. A line appears. You divide space.
Then there were twigs and broom bristles. Scratches and marks and lines until you had the control to create shape. Circle, triangle, square, said your older brother. Ciaran put the first nib under your thumb and first scrap of parchment beneath that. What you drew is missing in substance and memory. In its place, years apart, you transformed the circle into a tub. The triangle was a churn. The square became a table. You marked your spot with an X.
Aoife, said your brother, who taught you to draw a map?
The kitchen as it was when you were five. You could render space and suspend time.
You lived in a large cold house at the edge of a forest. The shady quiet lured, then hid, you. Wild child, said the nursemaid. Uncivilized, your mother declared when you returned home dirty with treasures. She tried and failed to tame you. Wait until I tell your father, said she. Next to his chair, you held your breath and your guard. He saw no harm in the fresh air and exercise. Good habit to start now because what man wants a fat wife? said your father. Indulgent, she called him. She stormed off on stout legs.
You had few ordinary interests as a girl. You didn't dress your bronze hair, tend to dolls, or join petty quarrels. This perplexed your mother, who tried her best to create a being in her own image. You soon realized you had to give to take. When you were attentive to your morning girlhood duties, she fought less when you asked for afternoon freedom. You acquiesced to learn how to behave regardless of whether you intended to follow suit. The reward was worth the concession.
With meticulous care, you planned your provisions, though not your expeditions. Adventure wasn't in the hunger to come but in the quest of what to follow. You packed your pouch | nuts and fruit, soft bread and hard cheese | along with parchment and ink, cloth scraps and straight edges.
You mapped the hidden worlds when you were still young enough to see them.
Spiderwebs and honeycombs taught the wisdom of symmetry. To you, everything before your eyes was built upon invisible lines and angles. The very spot where you stood only a point among many. A girl is not always in her place, you thought. A girl can be many places at once. And so you were. When you settled upon a space in the forest or meadow, you made a grid on the earth with small steps and tiny flags until there were row upon row of even little squares. You took your seat within the grid. You moved from square to square, noting what stood still and what passed by. All day long you observed and measured, sketched and colored. That which was off the edges appeared on the parchment as well. There were mysterious realms of bees and ants and creatures never seen before, with tiny castles and bright gardens.
One day, as you traced the uncovered trails of termites, you heard a rustle in the brush. You remained still with hope that the ancient stag or a sturdy bear would meet your eye. What a lovely beast to draw in that place! Instead, you faced a boy with green eyes and chestnut curls. A boy you knew well. Prince Wyl called your name and held up a dead rabbit by its hind legs. You lifted your hand in a polite wave and turned back to your work.
Did you see what I caught? I shall skin it and give the fur to the tailor to make you a fine collar, said Wyl.
It will be cold if you do that, you said.
It's dead. It has no need for fur now.
So literal, Wyl. You mistake my japes.
You meant no hardness toward him. As you looked to the ground again, you smiled. You knew his gesture was an act of affection. Such regard you had neither sought nor earned. His attentions you tried not to encourage or reject. That you two knew each other at all was a matter of circumstance. Your father served as the King's most trusted adviser.
On that day, when you wished Wyl had been the stag or a bear, you realized he didn't ask to see your map. He had on other occasions. You had no way to know that in years to come he would be privy to every chart you made, to the very last one.
See, you became a mapmaker.
Copyright © 2013 by Ronlyn Domingue
Reviews
There are currently no reviews for this novel. Be the first to submit one! You must be logged in to submit a review in the BookTrackr section above.
Images
No alternate cover images currently exist for this novel.