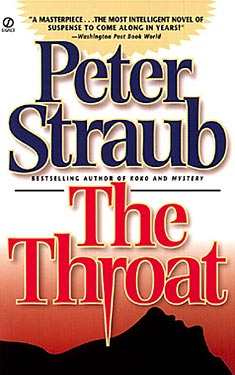 Synopsis
Writer Tim Underhill, the haunted Vietnam-vet hero of Koko, has been summoned by childhood friend John Ransom to his home town of Millhaven, the site of old horrors now plagued by new demons. After decades of silence, it appears that the Blue Rose killer has struck again - brutally murdering Ransom's wife. Assisted in his search for the truth by the reclusive amateur detective Tom Pasmore, Underhill is swiftly drawn into a dark labyrinth of lies and deceit, each turn punctuated by jolting shocks, leading inexorably back to the terrors of his own past - to mysterious events in the jungles of Vietnam; to the day he witnessed the killing of his young sister; and to the ensuing series of murders that rocked the city.
Excerpt
Part One: Tim Underhill
Chapter 1
An alcoholic homicide detective in my hometown of Millhaven, Illinois, William Damrosch, died to ensure, you might say, that this book would never be written. But you write what comes back to you, and then afterward it comes back to you all over again.
I once wrote a novel called The Divided Man about the Blue Rose murders, and in that book I called Damrosch Hal Esterhaz. I never alluded to my own connections to the Blue Rose murders, but those connections were why I wrote the book. (There was one other reason, too.) I wanted to explain things to myself--to see if I could slice through to the truth with that old, old weapon, the battered old sword, of story telling.
I wrote The Divided Man after I was processed out of the army and had settled into a little room near Bang Luk, the central flower market in Bangkok. In Vietnam I had killed several people at long distance and one close up, so close that his face was right before me. In Bangkok, that face kept coming back to me while I was writing. And with it came, attached like an enormous barnacle to a tiny boat, the other Vietnam, the Vietnam before Vietnam, of childhood. When my childhood began coming back to me, I went off the rails for a bit. I became what you could charitably call "colorful." After a year or so of disgrace, I remembered that I was thirty-odd years old, no longer a child, that I had a calling of a kind, and I began to heal. Either childhood is a lot more painful the second time around, or it's just less bearable. None of us are as strong or as brave as the children we used to be.
About a year after I straightened out, I came back to America and wound up writing a couple of books with a novelist named Peter Straub. These were called Koko and Mystery, and maybe you read them. It's okay if you didn't. Peter's a nice enough kind of guy, and he lives in a big gray Victorian house in Connecticut, just off Long Island Sound. He has a wife and two kids, and he doesn't get out much. Peter's office on the third floor of his house was the size of my whole loft on Grand Street, and his air conditioning and his sound system always worked.
Peter liked listening to my descriptions of Millhaven. He was fascinated with the place. He understood exactly how I felt about it. "In Millhaven, snow falls in the middle of summer," I'd say, "sometimes in Millhaven, flights of angels blot out the whole sky," and he'd beam at me for about a minute and a half. Here are some other things I told him about Millhaven: once, on the near south side of town, a band of children killed a stranger, dismembered him, and buried the pieces of his body beneath a juniper tree, and later the divided and buried parts of the body began to call out to each other; once a rich old man raped his daughter and kept her imprisoned in a room where she raved and drank, raved and drank, without ever remembering what had happened to her; once the pieces of the murdered man buried beneath the juniper tree called out and caused the children to bring them together; once a dead man was wrongly accused of terrible crimes. And once, when the parts of the dismembered man were brought together at the foot of the tree, the whole man rose and spoke, alive again, restored.
For we were writing about a mistake committed by the Millhaven police and endorsed by everyone else in town. The more I learned, the worse it got: along with everyone else, I had assumed that William Damrosch had finally killed himself to stop himself from murdering people, or had committed suicide out of guilt and terror over the murders he had already done. Damrosch had left a note with the words BLUE ROSE on the desk in front of him.
But this was an error of interpretation--of imagination. What most of us call intelligence is really imagination--sympathetic imagination. The Millhaven police were wrong, and I was wrong. For obvious reasons, the police wanted to put the case to rest; I wanted to put it to rest for reasons of my own.

I've been living in New York for six years now. Every couple of months I take the New Haven Line from Grand Central, get off at the Greens Farms stop, and stay up late at night drinking and talking with Peter. He drinks twenty-five-year-old malt whiskey, because he's that kind of guy, and I drink club soda. His wife and his kids are asleep and the house is quiet. I can see stars through his office skylight, and I'm aware of the black bowl of night over our heads, the huge darkness that covers half the planet. Now and then a car swishes down the street, going to Burying Hill Beach and Southport.
Koko described certain things that happened to members of my old platoon in and after the war, and Mystery was about the long-delayed aftermath of an old murder in a Wisconsin resort. Because we liked the idea, we set the novel on a Caribbean island, but the main character, Tom Pasmore--who will turn up later in these pages--was someone I knew back in Millhaven. He was intimately connected with the Blue Rose murders blamed on William Damrosch, and a big part of Mystery is his discovery of this connection.
After Mystery I thought I was done with Damrosch, with Millhaven, and with the Blue Rose murders. Then I got a call from John Ransom, another old Millhaven acquaintance, and because much in his life had changed, my life changed too. John Ransom still lived in Millhaven. His wife had been attacked and beaten into a coma, and her attacker had scrawled the words BLUE ROSE on the wall above her body.
Copyright © 1993 by Peter Straub
Reviews
There are currently no reviews for this novel. Be the first to submit one! You must be logged in to submit a review in the BookTrackr section above.
Images
No alternate cover images currently exist for this novel. Be the first to submit one!