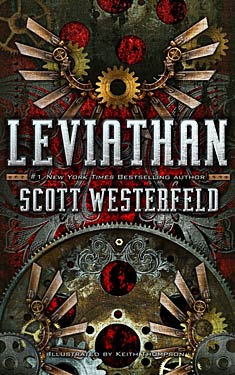 Synopsis
It is the cusp of World War I, and all the European powers are arming up. The Austro-Hungarians and Germans have their Clankers, steam-driven iron machines loaded with guns and ammunition. The British Darwinists employ fabricated animals as their weaponry. Their Leviathan is a whale airship, and the most masterful beast in the British fleet.
Aleksandar Ferdinand, prince of the Austro-Hungarian Empire, is on the run. His own people have turned on him. His title is worthless. All he has is a battle-torn Stormwalker and a loyal crew of men.
Deryn Sharp is a commoner, a girl disguised as a boy in the British Air Service. She's a brilliant airman. But her secret is in constant danger of being discovered.
With the Great War brewing, Alek's and Deryn's paths cross in the most unexpected way... taking them both aboard the Leviathan on a fantastical, around-the-world adventure. One that will change both their lives forever.
Excerpt
One
The Austrian horses glinted in the moonlight, their riders standing tall in the saddle, swords raised. Behind them two ranks of diesel-powered walking machines stood ready to fire, cannon aimed over the heads of the cavalry. A zeppelin scouted no-man's-land at the center of the battlefield, its metal skin sparkling.
The French and British infantry crouched behind their fortifications -- a letter opener, an ink jar, and a line of fountain pens -- knowing they stood no chance against the might of the Austro-Hungarian Empire. But a row of Darwinist monsters loomed behind them, ready to devour any who dared retreat.
The attack had almost begun when Prince Aleksandar thought he heard someone outside his door....
He took a guilty step toward his bed -- then froze in place, listening hard. Trees stirred in a soft breeze outside, but otherwise the night was silent. Mother and Father were in Sarajevo, after all. The servants wouldn't dare disturb his sleep.
Alek turned back to his desk and began to move the cavalry forward, grinning as the battle neared its climax. The Austrian walkers had completed their bombardment, and it was time for the tin horses to finish off the woefully outnumbered French. It had taken all night to set up the attack, using an imperial tactics manual borrowed from Father's study.
It seemed only fair that Alek have some fun while his parents were off watching military maneuvers. He'd begged to be taken along, to see the mustered ranks of soldiers striding past in real life, to feel the rumble of massed fighting machines through the soles of his boots.
It was Mother, of course, who had forbidden it -- his studies were more important than "parades," as she called them. She didn't understand that military exercises had more to teach him than musty old tutors and their books. One day soon Alek might be piloting one of those machines.
War was coming, after all. Everyone said so.
The last tin cavalry unit had just crashed into the French lines when the soft sound came from the hallway again: jingling, like a ring of keys.
Alek turned, peering at the gap beneath his bed chamber's double doors. Shadows shifted along the sliver of moonlight, and he heard the hiss of whispers.
Someone was right outside.
Silent in bare feet, he swiftly crossed the cold marble floor, sliding into bed just as the door creaked open. Alek narrowed his eyes to a slit, wondering which of the servants was checking on him.
Moonlight spilled into the room, making the tin soldiers on his desk glitter. Someone slipped inside, graceful and dead silent. The figure paused, staring at Alek for a moment, then crept toward his dresser. Alek heard the wooden rasp of a drawer sliding open.
His heart raced. None of the servants would dare steal from him!
But what if the intruder were something worse than a thief? His father's warnings echoed in his ears....
You have had enemies from the day you were born.
A bell cord hung next to his bed, but his parents' rooms were empty. With Father and his bodyguard in Sarajevo, the closest sentries were quartered at the other end of the trophy hall, fifty meters away.
Alek slid one hand under his pillow, until his fingers touched the cold steel of his hunting knife. He lay there holding his breath, grasping the handle tightly, repeating to himself his father's other watchword.
Surprise is more valuable than strength.
Another figure came through the door then, boots clomping, a piloting jacket's metal clips jingling like keys on a ring. The figure tromped straight toward his bed.
"Young master! Wake up!"
Alek let go of the knife, expelling a sigh of relief. It was just old Otto Klopp, his master of mechaniks.
The first figure began rifling through the dresser, pulling at clothes.
"The young prince has been awake all along," Wildcount Volger's low voice said. "A bit of advice, Your Highness? When pretending to be asleep, it is advisable not to hold one's breath."
Alek sat up and scowled. His fencing master had an annoying knack for seeing through deception.
"What's the meaning of this?"
"You're to come with us, young master," Otto mumbled, studying the marble floor. "The archduke's orders."
"My father? He's back already?"
"He left instructions," Count Volger said with the same infuriating tone he used during fencing lessons. He tossed a pair of Alek's trousers and a piloting jacket onto the bed.
Alek stared at them, half outraged and half confused.
"Like young Mozart," Otto said softly. "In the archduke's stories."
Alek frowned, remembering Father's favorite tales about the great composer's upbringing. Supposedly Mozart's tutors would wake him in the middle of the night, when his mind was raw and defenseless, and thrust musical lessons upon him. It all sounded rather disrespectful to Alek.
He reached for the trousers. "You're going to make me compose a fugue?"
"An amusing thought," Count Volger said. "But please make haste."
"We have a walker waiting behind the stables, young master." Otto's worried face made an attempt at a smile. "You're to take the helm."
"A walker?" Alek's eyes widened. Piloting was one part of his studies he'd gladly get out of bed for. He slipped quickly into the clothes.
"Yes, your first night lesson!" Otto said, handing Alek his boots.
Alek pulled them on and stood, then fetched his favorite pilot's gloves from the dresser, his footsteps echoing on the marble floor.
"Quietly now." Count Volger stood by the chamber doors. He cracked them and peered out into the hall.
"We're to sneak out, Your Highness!" Otto whispered. "Good fun, this lesson! Just like young Mozart!"
The three of them crept down the trophy hall, Master Klopp still clomping, Volger gliding along in silence. Paintings of Alek's ancestors, the family who had ruled Austria for six hundred years, lined the hallway, their subjects staring down with unreadable expressions. The antlers of his father's hunting trophies cast tangled shadows, like a moonlit forest. Every footstep was magnified by the stillness of the castle, and questions echoed in Alek's mind.
Wasn't it dangerous, piloting a walker at night? And why was his fencing master coming along? Count Volger preferred swords and horses over soulless mechaniks, and had little tolerance for commoners like old Otto. Master Klopp had been hired for his piloting skills, not his family name.
"Volger...," Alek began.
"Quiet, boy!" the wildcount spat.
Anger flashed inside Alek, and a curse almost burst from his mouth, even if it ruined their stupid game of sneaking out.
It was always like this. To the servants he might be "the young archduke," but nobles like Volger never let Alek forget his position. Thanks to his mother's common blood, he wasn't fit to inherit royal lands and titles. His father might be heir to an empire of fifty million souls, but Alek was heir to nothing.
Volger himself was only a wildcount -- no farmlands to his name, just a bit of forest -- but even he could feel superior to the son of a lady-in-waiting.
Alek managed to stay quiet, though, letting his anger cool as they stole through the vast and darkened banquet kitchens. Years of insults had taught him how to bite his tongue, and disrespect was easier to swallow with the prospect of piloting ahead.
One day he would have his revenge. Father had promised. The marriage contract would be changed somehow, and Alek's blood made royal.
Even if it meant defying the emperor himself.Copyright © 2009 by Scott Westerfeld
Two
By the time they reached the stables, Alek's only concern was tripping in the darkness. The moon was less than half full, and the estate's hunting forests stretched like a black sea across the valley. At this hour even the lights of Prague had died out to a mere inkling.
When Alek saw the walker, a soft cry escaped his lips.
It stood taller than the stable's roof, its two metal feet sunk deep into the soil of the riding paddock. It looked like one of the Darwinist monsters skulking in the darkness.
This wasn't some training machine -- it was a real engine of war, a Cyklop Stormwalker. A cannon was mounted in its belly, and the stubby noses of two Spandau machine guns sprouted from its head, which was as big as a smokehouse.
Before tonight Alek had piloted only unarmed runabouts and four-legged training corvettes. Even with his sixteenth birthday almost here, Mother always insisted that he was too young for war machines.
"I'm supposed to pilot that?" Alek heard his own voice break. "My old runabout wouldn't come up to its knee!"
Otto Klopp's gloved hand patted his shoulder heavily. "Don't worry, young Mozart. I'll be at your side."
Count Volger called up to the machine, and its engines rumbled to life, the ground trembling under Alek's feet. Moonlight shivered from the wet leaves in the camouflage nets draped over the Stormwalker, and the mutter of nervous horses came from the stable.
The belly hatch swung open and a chain ladder tumbled out, unrolling as it fell. Count Volger stilled it from swinging, then planted a boot on the lowermost metal rung to hold it steady.
"Young master, if you please."
Alek stared up at the machine. He tried to imagine guiding this monster through the darkness, crushing trees, buildings, and anything else unlucky enough to be in his path.
Otto Klopp leaned closer. "Your father the archduke has thrown us a challenge, me and you. He wants you ready to pilot any machine in the House Guard, even in the middle of the night."
Alek swallowed. Father always said that, with war on the horizon, everyone in the household had to be prepared. And it made sense to begin training while Mother was away. If Alek crashed the walker, the worst bruises might fade before the princess Sophie returned.
But Alek still hesitated. The belly hatch of the rumbling machine looked like the jaws of some giant predator bending down to take a bite.
"Of course, we cannot force you, Your Serene Highness," Count Volger said, amusement in his voice. "We can always explain to your father that you...
Copyright © 2009 by Scott Westerfeld
Reviews
Images
No alternate cover images currently exist for this novel.